Support Team QLI
Be a part of the amazing things that happen here every day.
General Donation
A donation to the general fund allows our team the flexibility to apply your gift to QLI's most pressing current needs. General support maximizes impact and ensures we can carry out our mission of making rehabilitation what it should be: inspired, individualized, and relentless.
Targeted Donation
Have something specific in mind? Here are three areas of need that will ensure your dollars have designated impact.
1
Life Path Services
The lifeblood of QLI's innovative rehabilitation program, Life Path Services facilitates recovery by incorporating each client's passions, values and identity into their therapy and care, moving the focus from devastation to hope.
2
Rehabilitation Technology
Technological innovation moves at a lightning-fast pace. Help QLI remain at the top of the industry by supporting our efforts to offer the latest and greatest in rehabilitation technology to our clients.
3
Workforce Development
Our people are our greatest strength. QLI's award-winning IMPACT program places students in a hands-on learning environment to gain the technical training and social and emotional skills necessary to be successful at work and in life.
Sam Wageman
Founder, Fusion Medical Staffing
Fusion loves to support QLI because they do remarkable work to help families recover from devastating injuries. Every time our employees volunteer or attend a QLI event, we have a blast and we know we're making a meaningful difference in people's lives. You can't beat that!
Abidee Fallah
QLI Team Member
I am privileged to see first-hand how QLI's services transform people's lives on a daily basis. I'm inspired by what QLI does for the residents and their families. For me, it is an honor to be a part of what QLI stands for: Delivering life-changing rehabilitation and care, instilling purpose, and creating hope. I can't imagine a better place to work or to support.
Paige and Brian Ritter
QLI Donor
There is no doubt we would send our family member to QLI if they were in need of specialized rehabilitation services. This is why we are happy to wholeheartedly support and give to QLI. It's amazing that we have a nationally renowned rehab facility like QLI in Omaha and as a community, we need to continue to support their mission to deliver the best care and to rebuild lives.
Questions?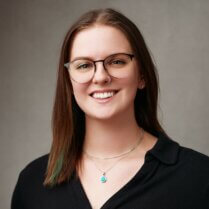 Julia Bailey
Donor Relations Coordinator