It is early afternoon in QLI's Colladay Center. The usual flow of traffic is about—clients heading to therapies, clinicians preparing for meetings, and some setting up for a giveaway. In one corner of the common space, there is a party preparation happening, with large amplifier rigs and equipment for DJing.
"All right," says QLI Life Path Specialist Cale Bracker, a fellow DJ here to support professional DJ and QLI client Waylon Campbell. "Everything looks good on my end." As the time approaches for the music to begin, Waylon gives everything a final once-over. The mix is on point—enough bass rumblings and high points to fill the building from floor to ceiling with sound.
"Yep," replies Waylon, hand poised over the ON-OFF switch. "I'm ready."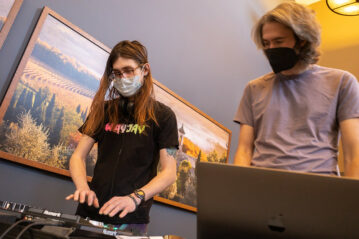 Throughout the Colladay Center, a steady pulse begins to resonate throughout the walls. It grows in volume, in tempo. Then, a crescendo. At this moment it becomes clear this is not an average day of therapies—this is a party, and it has a purpose.
Understanding the importance that DJing holds in Waylon's life, QLI clinical team members helped him organize the event, which also acts as a vocational trial and assessment. And here Waylon stands—putting his passion into action. Having the expertise and support from all those around him, he's come a long way.
A Walk of Determination
Waylon starts out with a brisk walk. In the windows just beyond the treadmill in the Gait Lab, it's gray and cold—slightly drizzling too. A physical therapist intern monitors Waylon's gait speed. "Next Friday we're getting outside," he says. Waylon freely mentions his history with running—doing cross-country throughout high school—another spoke on the wheel of his life. When the intern tests him on how fast he can safely go on the treadmill, Waylon kicks it up a few notches, jogging for around a minute. While adventurous in many aspects, Waylon also knows when to scale things back and when he is ready to kick into a higher gear.
A traumatic brain injury isn't always visible. On any given day, Waylon can be found walking around QLI's Rehabilitation Campus, indistinguishable from the many team members. His demeanor is calm and voice is quiet. He is a twenty-five year old on the cusp of an adventurous and exciting life. In a few weeks, he will become a father to a baby girl.
After being involved in a car accident while at work in late 2021, Waylon went through an acute rehabilitation program at Craig Hospital as his body and brain healed. The physical gains he achieved and continues to achieve are strong. But barriers remain including difficulties initiating tasks and conversations, staying focused and oriented in vocational environments, and processing information.
Waylon remains focused on his goals – to be the best father and provider he can be for his daughter, to run, and to play music again. His team is equally focused on helping him meet those goals. Every moment spent in the Gait Lab allows Waylon to remain future-oriented, with this specific session revolving around the environment he will return to once he discharges. The intern asks, "Is it hillier, or kind of a flat land?"
"It's hilly," says Waylon. Then, with little prompting, Waylon increases the incline on his treadmill, holding in that position for around thirty seconds before decreasing the incline. Again, after thirty seconds, he repeats the process and raises the incline, this time to a more severe slope.
"Let's keep it here," says the intern. Waylon keeps walking. No challenge is to far off and unreachable for him. He'll meet all that comes his way.
Preparation for Fatherhood
"There, like this." Waylon follows this pattern explained by his mother, fastening a diaper together in a centered and snug way on a plastic baby doll. Any first-time father has many new things to learn, and Waylon's brain injury necessitates additional time in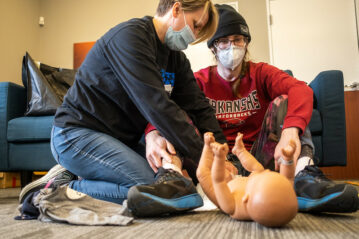 his program to solidify these routines. Before practicing putting clothes on the doll, Waylon picks it up, holding it for a time. Even with just a doll in his arms, the expression on his face shows it all—he cannot wait for the day to come when he can hold his daughter, looking after her whether she's awake and cooing or peacefully sleeping. He is as ready as anyone can be.
…
"So who do you think will take it all this year?" It is just before St. Patrick's Day and the beginning of the NCAA March Madness tournament. Waylon is planning an event to coincide with both of these occasions. Just like the party he DJed the month earlier, this one promises to be something truly special. A large portion of Waylon's program at QLI is structured around vocational activities and projects. These include washing cars in the Facility Services garage, prepping for mock job interviews, or in this case, planning a DJing event. As Waylon enjoyed DJing in his spare time prior to his injury, QLI's Life Skills team takes a vocational aim at the activity. Every aspect is broken up into stages: ideas for the event, poster design, other activities to include, and promotion. Getting Waylon back to his life goes far beyond a standard routine of therapies—it is all about actualizing activities and passions to facilitate success post-discharge.
To the above question posed about the March Madness tournament, Waylon always responds without a moment's hesitation—"I think Arkansas will win." Life Skills Assistants Brandi Madsen and Nick Whitver have helped him create a game plan for the event. It is decided that it will be called "Luck N Buckets." Music is provided by Waylon as the DJ, the big screen shows coverage of the March Madness first-round games and attendees work on their shot with the Pop-A-Shot indoor hoop game.
In the houses of Rehabilitation Campus, the Colladay Center, and the Lied Life Center, Waylon goes with Whitver and Madsen to distribute mini-fliers and posters of the event—a natural and functional way to work on Waylon's lingering social skill target areas. When entering an office or approaching someone Waylon is somewhat quiet or reserved but when the topic of music or basketball is reciprocated by someone, his spirits light up.
Waylon's Future
Luck N Buckets is a roaring success. In front of it all is Waylon, mixing the music, inspiring an energy, and creating a community within the Colladay Center's common area. Bracker is here as well, this time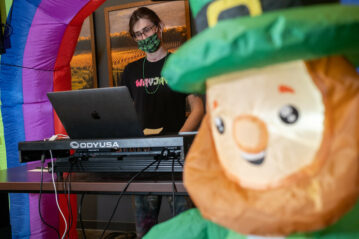 on the dance floor but close by to provide assistance, if needed. It is not. Clients and team members fill the space. The similar tone of music—electronic dance music, as is his specialty—rumbles with like tambour through the floor and walls, affirming the path his recovery has taken, tailor-made to suit his passions and interests. He owns the stage.
…
"Oh my goodness, she's gotten so big!" Life Skills Assistant Aubrey Nickell is seeing an impromptu slideshow of Waylon's nearly one month old daughter, Iris.
"She sure is," says Waylon as he beams. His girlfriend, Anna has come from Joplin, Missouri to visit with Iris. It is clear from Waylon's willingness to present anyone with pictures of his daughter that he has the motivation to provide for his family and have a solid and purpose-filled life when he returns home. These non-sequiturs are the vital looking glass to the mission to find a volunteer program for Waylon once he returns home.
As the team plans with Waylon for his discharge, they look into options in his hometown. "Do you have any upcoming summer programs for kids relating to sports or music?" Nickell calls around to various Joplin organizations. Waylon sits beside her to help reiterate information and take down notes. After a few calls, Nickell and Waylon have gathered the details of some programs.
"Wow," says Nickell, "we've got quite a few leads to go for the summer. You excited for them?"
"Oh, yeah," responds Waylon. "I'm ready."