It was a long day. Finally home to Oregon at last, the extended Cross family and friends gathered to celebrate the progress made over the past seven-odd months. It was a long journey. Oregon to Colorado to Nebraska—to QLI. For Bob, this initial journey may have ended, but his life was starting anew. Amid conversation, Bob left the room. A brief pause, then, from the other room—the sound of sweet, sustained piano notes. Bob was playing unprompted—filling the house with a rhythmed warmth it hadn't known for quite some time.
Bob Cross completed QLI's inpatient brain injury rehabilitation program in December 2021. Following his rehabilitation and discharge back home to Oregon, he continues to engage in QLI's telerehabilitation services through Kintinu. In celebration of Brain Injury Awareness Month, we spoke with Bob, his family, and, the QLI clinicians involved throughout his journey at QLI to understand his recovery through their eyes.
…
Q&A with Michelle Cross
Q: Tell us a little about Bob.
A: Bob is the kind of guy who is everybody's friend—no one is a stranger. He's got a very dynamic personality, owns a business, is very involved in his community, and is a performer—he loves to sing. In our community, he was always the one to do something for someone else. That has been one of the hardest things for him during this recovery—accepting help is difficult for him.
Q: What happened?
A: He and his brother owned a construction business and they would often fly themselves to remote towns to meet with banks and clients. On May 20th, 2021, Bob's plane malfunctioned and crashed a mile from the Eugene, Oregon airport. He was the third biggest piece of the wreckage and suffered a significant traumatic brain injury. Bob was first at a hospital in Eugene before rehabilitation at Craig Hospital in Denver, Colorado for three months.
We were initially against the idea of coming to QLI—wanting something closer to home in Oregon. For a family of someone with a brain injury, it takes some time to come around to what your situation truly is and what options are out there. We had to fight for him to get the next level of care.
Our initial misgivings about QLI fell away when we came out and toured the campus. We couldn't imagine him being anywhere else.
Q: What were the family's most immediate hopes for Bob's rehabilitation and recovery?
A: The promise of QLI that was discussed with us, was to take Bob to a greater level of independence than what we had at that time. Our goal was to have Bob return to some semblance of a life where he is in control of the direction and can do the things he wants to do.
Q: What were Bob's days at QLI typically like?
A: When we arrived, one thing that I wasn't anticipating was how that transition initially negatively affected Bob. For his first month, it was difficult for him to navigate the radically different social environment than he had experienced in a hospital setting. He went from having around three hours of therapy a day, to being scheduled for six a day. The hardest thing was his ability to come around and think about how he would get through the situation. Once we committed as a family to be at QLI for as long as we could, we were going to make the most of it. Over time Bob appreciated the commitment, wanting to be at QLI for as long as it would take. Within his therapy sessions, we were amazed at how much physical activity he was doing—he got his body moving.
Q: Since Bob's return home to Oregon, what have been the biggest celebrations and challenges for the family?
A: The biggest celebration has been to see Bob settle back into a routine where much of his day is self-initiated. Before he came back Bob was making long lists of tasks he wanted to do—moving ladders, cleaning the fireplace, that sort of thing. For weeks he would work on the lists, some days making them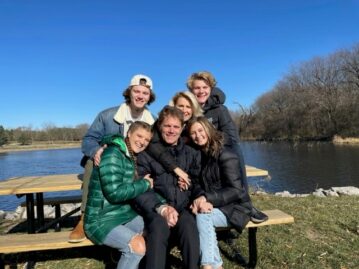 shorter, and some days making them longer. The agency he took on doing these things when he got home was wonderful to see. As Bob is into music, one thing that he was looking forward to doing again was playing the piano. When we heard him play the piano again, it was like everything that we had worked on to that point was laid out in front of us.
As far as the challenges, one that we have faced together with Bob was his transition home. Following his plane crash, he had to learn new personal limitations—essentially, he was a new person. But in the months following his injury, he was okay with that because this was the reality he faced in the new places of Denver and Omaha. Now, it's a matter of thinking, "okay, I'm in my city, my home, and my life, but this isn't my life." It's been a transition for Bob to accept this new reality replacing the old reality he had known less than a year before.
Q&A with Brandi Madsen, Vocational Specialist
Q: What were the biggest obstacles Bob faced at the onset of his injury and arrival at QLI?
A: Early on, Bob struggled quite a bit with memory, initiation, and recognizing people and faces. Every time I would be with Bob, I would go up to him and say, "Hey Bob, it's Brandi, we're going to do this today…" and the clinical staff would supplement this with notes on his phone. He could walk and talk, but there were many cognitive barriers to overcome.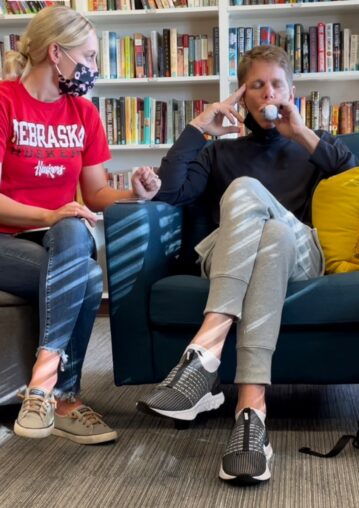 Q: What was the formation of Bob's program like?
A: Bob's brain needed very routine tasks and repetitions that would allow him to get better. It was very difficult for Bob to even tell someone what he liked to eat—he simply couldn't process that information at the start of the program. Bob's morning routine was structured in such a way that he would pick up on it over time, and grow more comfortable and able to initiate those routines himself.
Q: Were the routines and repetitions in Bob's programs there to aid the recovery of his memory?
A: Yes, the goal of routines and repetitions is to reintroduce neuropathways. We talk often at QLI about the brain and healing—specifically how neuroplasticity can be achieved through programs. Introducing routines leads to the brain understanding and placing intuitive routines in day-to-day activities.
Q: What were the biggest triumphs that came up over the weeks of Bob's program?
A: The team loved seeing his general awareness grow during his time here. His memory made leaps and bounds. At first, he was not always able to recognize the repetition of the tasks he was doing, or why he was doing them. Over time he grew to understand the purpose behind the tasks and therapies. Through his therapy on-campus and with Kintinu, Bob has demonstrated great physical gains through his strengthened endurance. A big goal was just to keep Bob as active as possible for a sustained amount of time, and he's been able to accomplish this.
Q&A with Stephanie Handlos, Service Coordinator
Q: What was the process like for creating Bob's program?
A: It's very much so a collaborative process. We not only set about discussing a potential program from a clinical standpoint, but we also work closely with his family to incorporate his goals, interests, and values into a therapy program, figuring out how we can best meet those aims. For Bob, we cast a long-term vision at the start, asking "where do we see Bob in five years and where is he currently functioning?" We start small, working a bit at a time to get more towards long-term goals.
Q: What was Bob's family's involvement like during his time at QLI?
A: It was a joint effort between Bob's family and the clinical staff at QLI. I think with Bob's character being so driven and respectful, he was willing to do various tasks and therapies out of that driven and respectful attitude even if he couldn't see the purpose in those activities at the time. Michelle was so supportive of what the therapists were trying to do. Everyone had a common goal. That was a very refreshing experience.
Q&A with Bob Cross
Q: Following your injury, what was your immediate view of what your near and distant future may look like in recovery?
A: After my injury, I didn't have great awareness of what was going on or the scope of what had happened. My normal awareness didn't fully return until close to a month before I was discharged from QLI. I knew that I had been to rehab hospitals, but was under the impression for a long time that I had been a visitor at those places and not a client.
Q: Given that you were under the impression for quite some time that you were a visitor rather a client, what was the transition to QLI like for you?
A: It was hard, to be honest. Even though I knew I was being treated well by the staff, it was difficult to adjust to a new place—growing a little more independent out of 24/7-type care.
Q: As your awareness began to return with one month left of time at QLI, how did you measure your success?
A: I measured my success through those around me. I knew I had good relations with the team members at QLI, and they spoke highly of me. I relied quite a bit on outside-perspective feedback because I did not have the same level of awareness for my injury as my family did. For them, it was a process of over six months learning about traumatic brain injuries and my program, while for me it felt like the span of a few weeks. Because of this, I listened more to how others perceived my progress to have a good frame of reference for my future success.
Q: What are some challenges you have continued to work through following your transition home?
A: One difficult thing is not getting as much done as I used to. Fortunately, taking notes daily on what I have done and what I should do helps my memory—that's a major thing for me to work on. By taking notes, I've realized that I still am very productive in my day-to-day. I'd love to snap my fingers and return to the level of productivity I had before my injury, but I'm putting myself wholly into the recovery. QLI taught me that investment in my recovery will pay off—I know I'm seeing good results.
Q: Where do you see yourself six months or one year from now?
A: At the end of the day, I just want to be more active. I'd love to rejoin my golf league or maybe wake surf this summer. Within the next six months to one year, I'd also like to get back to driving.
Q: If you were to talk to someone who may not know that much about traumatic brain injuries, what would you want them to know about you and your journey?
A: I would encourage them to have patience. Taking the time to "get better" is hard. If I could, I would've gotten better yesterday. However, no one has the luxury of doing that. Putting in the time and not getting too frustrated are very important.
…
Even in the face of his traumatic brain injury, there was one subject brought up that Bob never wanted to work on or think about—not until he had returned home—his music. "He sings," remark both Michelle and Brandi. While a deeply rooted passion, Bob did not want to see this somehow tainted or sound different in his recovery—a piece of his life that could remain locked away if only for a little while.
"I wanted to be able to do it as successfully as possible," he says. "I don't play music for the notoriety or anything, I play it to play it." He would work on it in his own time—meeting it in stride, once he was finally home. On the night that they returned—Bob felt that the time had come—he was ready.
The sounds from the piano that night were a long time coming.