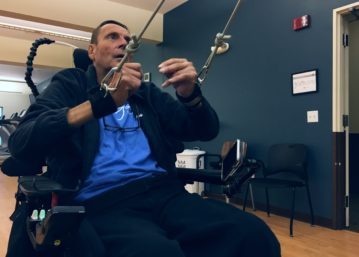 Rifet Hasanbasic pulls on an elastic resistance band tied in a knot around the strut of a weight machine, his hands tethered to it at the wristbraces with carabiner clips. It's his final week of rehabilitation at QLI. He stares through the bars of the machine at a mirror. He takes a big gulp of breath in when the line goes slack. Forces the air out through his mouth as he flexes his arms against the band. Each movement a laser-focused consideration of the pins-and-needles sensation returning to his muscles.
At one point he overhears Maddie, a physical therapy intern with whom he's spent dozens of hours training, explain that this is the final day of her internship at QLI. Rifet completes his reps, then wriggles the pliable straps out from the carabiners. He maneuvers his power wheelchair in front of Maddie as she follows another rehabilitation client out of the gym, knowing their respective schedules might prevent him from sharing a farewell. He says "Come here for a second" to Maddie, his accent distinctly New England.
He thanks her for everything she's done for him in the four months since June. Thanks her for her patience, for her creativity, for her positivity. She states she will head to Phoenix for a last internship. Then, after graduating, begin the search for a position as a physical therapist.
"You oughta work here," Rifet says, less a suggestion and more a plainly stated observation. "You just need to work here."
He wheels his chair around in place, saying "Where's Christy? Where is Christy at?" He's scanning for Christy Neneman, one of QLI's lead therapists, and he spots her across the Lied Life Center's gym, applying gentle stretches to a young man's arms and legs to boost his range of motion.
Rifet shouts out over the heads of every rehab participant exercising in the fitness center:
"Hey, Christy!"
The room freezes. Every set of eyes locked on him.
"Hey, you hire this girl! Hire her! You hire this girl!"
Laughter erupts. Christy smiles.
Rifet turns back to Maddie. Her face, flushed with color. He lifts his hand off the steering apparatus on his chair's armrest. Months ago, even this amount of movement would've been considered monumental.
He points with this hand at Maddie, right at her heart. He says, "You're golden, kid. You're absolutely golden. I just know you're going to make it."
They share a hug. Then, Maddie turns to leave the fitness center and, likewise, Rifet trundles back to his resistance band pulls, returning without complaint or reservation to the hardest battle of his life.
***
It came without warning, the fall. During a middle-of-the-night walk from his bed to the adjacent bathroom. He was still recovering from a recent bout of respiratory illness and the lingering after-effects of a decompression surgery meant to treat a worsening cervical stenosis. He cites the day of his fall as one that was "terrible, in terms of balance."
Rifet doesn't recall dropping to the ground. Only waking in the night and the realization of being trapped on the floor. Unable to move in the dark.
Worse still: He was alone.
He'd spent most of the week in Massachusetts, his homestate, as part of a check-up on his own foundry business and real estate properties. But he was more than a thousand miles from his winter home in Florida. More than a thousand miles from his wife, Patty.
So he lay on the floor, immobilized. For nine hours he waited—not for a sign or a miracle, but for a morning ritual.
"My wife and I—if I'm in Massachusetts and she's in Florida—every morning at seven we have a phone call. I'll call her or she'll call me," Rifet says. "Sure enough, seven o'clock comes and the phone rings. I can't answer it, so my cell rings. I can't answer that. At that point Patty knew something was wrong and called her mom to come find me."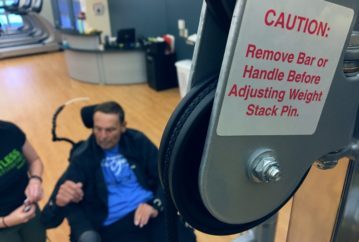 Patty's mother found Rifet stranded on the tile floor just feet from his bed. He was rushed to a nearby hospital, where initial scans revealed fractures in the C5, C6, and C7 vertebrae—Rifet's mid-to-low neck—which accounted for the global loss of function he'd experienced after the fall.
They told him it was a "bad break." The phrase had an unfortunate way of fitting in every sense—both a sudden, unexpected, unavoidable turn of poor luck and a deeply severe spinal cord injury, one that would have long-lasting consequences on Rifet's physical health.
But the spinal cord injury wasn't the lone medical obstacle he faced in the early phases of recovery. As doctors worked to stabilize and repair his cervical fractures, Rifet's recurring respiratory troubles presented additional difficulty and required additional treatment. After two-and-a-half weeks in intensive care, a tracheal intubation to ward off the relentless threat of pulmonary infection, and a series of operations on his spinal cord, Rifet was left without the ability to walk, to move most of his upper body, to even speak. He was affixed to a hospital bed. All tubes and machines and stillness and silence.
"That's when things became really tough," says Patty. "That was everything. Gone. It was just tough."
***
Amidst injury and illness, the Hasanbasic family sought out answers. A path forward. Some way to right their capsized ship.
Patty investigated acute rehabilitation programs across the country, uncertain about any institution's ability to treat the breadth of Rifet's medical complications. Eventually, the family chose the expertise and confidence offered by the team at Colorado's Craig Hospital, a world-renowned rehabilitation hospital specializing in brain and spinal cord injury rehabilitation services.
"They felt comfortable handling his respiratory problems and his rehab," Patty says. "And, really, from the moment we got to Craig, we felt taken care of. The doctors were amazing, they were funny, they understood how to make a hard situation good."
For three months Rifet's therapy was a game of millimeters. Increments of progress sometimes only perceptible after days of toil. Craig Hospital's team balanced intensive respiratory care with functional training as the bedrock of his recovery. Rifet's pulmonary condition, his struggle to fight off infections and breathe independently, necessitated the use of a ventilator, limiting the scope of his treatment plan and his capacity to participate in rigorous therapies.
But the effort—from both Rifet himself and from his hospital team—remained constant and opportunistic. Any chance to perform therapies, even in his compromised state, meant tremendous progress.
After seven-and-a-half weeks, the ventilator was removed. Rehabilitation began in earnest. The most basic of skills came into focus, things so fundamental he'd never consciously learned them before. 
"A very difficult thing for me was relearning how to swallow," he says. "Nobody taught any of us how to swallow. I didn't understand—now you want me to learn how to swallow? I met with a coach every day for an hour. She had me take a swallow test. I actually flunked that test twice. Didn't finally pass it until the third try."
This was the path, the way forward. Little gains. Sharpened details. Pebblestone by pebblestone up the mountain. In June, at the end of his stay at Craig Hospital, Rifet had graduated from lying supine in bed for hours on end to the regular use of a power wheelchair. He'd regained his voice, had successfully begun to maintain a stable bill of respiratory health, and, no longer in need of intensive hospital-based therapy, was primed for the next stage of rehabilitation.
***
"Craig Hospital recommended we seek out QLI," Patty says, referring to a conversation she'd had in the spring regarding Rifet's future. "They first described it as a skilled nursing facility. My radar went off. That sounded like a nursing home to me. That didn't sound like where we wanted Rifet to go."
Rifet reinforces the skepticism: "Craig Hospital was so phenomenal that we really wanted to be sure we were making the right decision, going to QLI. We wanted to know it was right.
"The first time I realized this place might be pretty different was at the airport in Denver. QLI had people there waiting, ready to fly right at my side to Omaha. That was a big deal. That was impressive."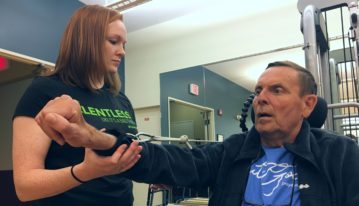 Indeed, these personal touches seemed to define Rifet's therapy plan in Omaha—recovery built on the foundation of genuine relationships. Individuals across QLI rallied around Rifet. He enjoyed a mysterious sense of near-celebrity status on QLI's campus, always the recipient of shouting salutations and excited greetings, even from staff disconnected from his own program. Employees of other residential units on QLI's Rehabilitation Campus would join Rifet and Patty and the other rehab clients for evening meals. The camaraderie Rifet had with his team—evident in teasing verbal jabs pointed at Rifet's New England Patriots or in touching, earnest moments of coaching as Rifet and Patty worked through functional problems they'd face in their home—wasn't superficial or cordial for appearance's sake. These were real relationships. Real and powerful and motivating. A safety net in every moment of uncertainty, hardship, and hard work.
"It was different for us," Patty says about the transition to QLI, "not having doctors right on campus. But I was very surprised by how skilled the staff in the houses were. They were not only caring. They knew their stuff. It made me realize, had we gone home straight from the hospital, how very unprepared I was to take care of him."
It was on the back of these relationships that Rifet's rehabilitation took hold.
That rehabilitation would be nothing if not comprehensive. Occupational therapists swarmed around Rifet's immobilized hands, ferreting out strategies—via clever use of assistive devices and technology—to return motion to his fingers, subtle flexion in his wrists. Physical therapists combined pinpoint-specific exercises with total-body strength-training to augment his muscles' activity and responsiveness.
But rebuilding Rifet's life required more than a treatment plan for the physical manifestations of his injury—rather, it was necessary to consider his entire world. The invisible impacts. The ways in which the social and familial aspects of his life had been altered. Rifet was a loving husband, a dedicated father and grandfather, and a successful businessman—the question had always been about if he could return to those roles. QLI asked how, instead.
QLI's Life Path Services and Residential teams took this responsibility head-on. They simulated true-to-life experiences by providing Rifet access to the Omaha community—supermarkets, retailers, restaurants. What would it look like to shop for weekly needs, to organize and operate safely around the house, to enjoy a romantic date night or an evening on the town? Rifet's confidence only grew as he began to navigate these situations independently.
Meanwhile, he trained in QLI's unique adaptive driving program, building his way toward attaining a new driver's license, something he and Patty had thought impossible following his injury. And, increasingly, it began to look as if he would be able to manage his business and real estate without missing a beat, even traveling back and forth from Florida to Massachusetts as he had before.
In February, just eight months earlier, Rifet was immobile. On the floor, torn between the forces of paralysis and sickness. By October, with Patty and an army of QLI specialists at his side, he'd become unstoppable. 
"It changes your perspective," Patty says, "from looking at all these things you can't do. Soon it's, 'Yes we can! Yes we can!' That gives you hope for the future. A family can move on from an injury and live."
***
In conversation, Rifet frames statements of frank realism, sobering and powerful moments of honest expectation, with a bigger vision—a perspective of optimism. He never credits himself, no matter how much he deserves the recognition. Always the team members around him, always their ability to inspire action.
"This is not a selfish injury," Rifet says. "It takes in many people around you. But we have to try. And here? It's contagious here. I see so many employees here who say, 'This is my happy place.' That's really cool. That's really impressive."
He looks around before saying anything more.
"You know, the buildings here, the equipment here—it's all great, all top-notch. But that doesn't impress me. None of that matters. You know what impresses me? The people. The people here are what matter. They make QLI special. They're what you won't find anywhere else. What you can't find."
If nothing else, Rifet Hasanbasic is the spitting image of progress. Constant momentum against an opposing force. There's a sense of pride he exudes when he talks plainly about the way you always get better in therapy—even when you don't feel it, can't see it. Every day is a day of movement, a day of looking back on what could be, on how it could be so much worse, and waving to it the way one waves at something they never want to see again.
Rifet tells a brief story about one of his biggest accomplishments. It involves transferring from his wheelchair to another seat—a bed or a therapy mat level with the seat of his wheelchair. It's a skill he's worked on for months, made more difficult by his weakened musculature. It takes tremendous strength to push, palms down, with the necessary force to slide the entirety of your body, or to lift it from resting place to resting place. The injury had taken all of that from Rifet, thieved it, left him bare.
He talks about working on transferring with Brad Dexter, QLI's Coordinator of Physical and Occupational Therapy Services. Half-jokingly, his description paints Dexter as a figurative drill sergeant. Excuses aren't good, is what he says about Dexter. Recovery doesn't wait. We'll be here as long as it takes to get the job done.
"You want to get working? Have Brad beat the crap out of you for an hour, you'll get working," Rifet says, laughing.
Then Rifet's tone becomes serious. Focused. Not quite sad, but contemplative.
He talks about how, for months, he required the use of a Hoyer Lift to go from his wheelchair to a mat. The lift is a huge, straddling, mechanical device. A single big, cold sideways-hanging arm with huge hooks underneath. It cradles patients up and out from a seated position in an oversized medical-grade sheet, holds them up in it like goods in a bag. Rifet describes the experience of being in the lift. Hanging there limply. The powerlessness of it. He resents it.
Then he talks about his time with Brad. After months of work with Brad he's been able to stop using the Hoyer Lift in favor of a stand lift, which assists the user into an upright standing position before they make a transfer between seats.
It's a lighthouse in the night. A sign, a waypoint. It means, over time, Rifet has been able to bear more weight on his legs, means that his legs can still do the work. It means, in time, perhaps he'll get back to walking.
"Right now," Rifet says, "the stand lift doesn't look pretty. But I'll tell you what—"
He smiles.
"—it's better than the Hoyer."