A flurry of motion and noise fills the room–a gym built within the open floorspace of a maintenance garage. Grungy guitar riffs snarl out from a stereo as four men, each of them in wheelchairs, zip quickly in four separate directions to individual stations. One of the two fitness coaches in the room watches the athletes take their respective positions. She pauses until all eyes are on her, ready for the signal.
She shouts and chops downward, cutting an invisible ribbon.
The four trainees respond with shocking immediacy, powering through individual high-intensity workouts:
One participant stabs his hands through the fibers of a heavy rope in order to perform a rope climb. Over and over, he hoists himself up and out of his wheelchair, suspended over ground before setting safely back down.
Another positions himself between two padded boxes at chest height. Palms down, he pushes through his triceps to elevate above his wheelchair. A slow press upright, locked arms. Then,  a controlled descent.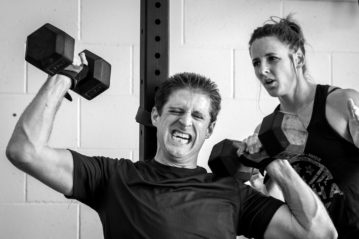 The third performs a "clean and jerk" with twin dumbbells. Holding one in each hand, he engages his core and back to bring them from a low position to his shoulders, then again to extend his arms above his head.
The last starts his station, a series of circuit sprints, but explodes out through the open shutter into the sunlight, where, on the open pavement, two cones forty feet apart represent the corners of a lap. He pushes his chair against an uphill slant, pivoting sharply at the farthest cone before racing back to his starting point.
This is just the beginning of an exhausting gauntlet. After 60 seconds, the first coach calls for a switch and the trainees rotate from one exercise to the next. The second coach—legendary eight-time CrossFit Games competitor Stacie Tovar—watches the rotations closely, ready to jump in, hands-on, to modify any of the exercises to meet or challenge the abilities of any of the individuals training.
As the circuit wears on and the rotations continue and the participants grow more fatigued, the atmosphere inside the gym space only gets louder, more excited. The coaches call out little victories mid-set, sometimes identifying and congratulating specific movements. Encouraging the perfect press, the ideal pull-up. It's a contagious vibe the trainees pick up as well, shouting across the garage with pride. Their pride isn't for themselves. Not entirely. It's for each other. 
And, together,  they're celebrating an idea: Nothing has to remain static.
Consider, for a moment, your wellness routine.
Consider the gym you attend. Consider the classes you take. Consider the dumbbells and barbells and machines weights and elastic bands and dynamic motions you use.
Consider the motivation you get from a personal trainer who knows you, who cares about your progress, and who empowers you to break down barriers and push yourself beyond your limits.
Now consider how every part of that routine would be different if you couldn't reliably walk or stand, if you couldn't manipulate your hands or couldn't fire the muscles in your arms. Consider how that wellness routine might change if you required a wheelchair to move from exercise to exercise.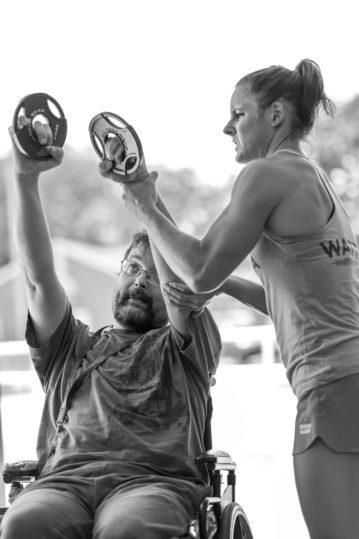 This summer, QLI embarked on a quest to reimagine accessible fitness. Partnering with CrossFit Omaha owners Stacie and Dustin Tovar, QLI laid the foundation for a brand new adaptive functional fitness program, an endeavor that will eventually extend beyond the walls and figurative boundaries of QLI's rehabilitation and care facilities to serve individuals with adaptive fitness needs in the Omaha-area.
Combining QLI's depth of clinical talent with the Tovars' background in high-intensity fitness training—itself a combination of gymnastics, weightlifting, and endurance disciplines—the adaptive functional fitness program at QLI presents a dynamic, accessible health and lifestyle solution.
"Someone with a disability can come into the program and challenge themselves positively in a way that they've probably not experienced in their lifestyle," said Jon Schuetz, a professional spinal cord injury mentor for QLI and one of the first participants of the program.
"[Stacie and Dustin Tovar] have adapted weight and resistance training exercises from CrossFit programs originally developed for able-bodied individuals. They maintain the same form, the same activity. It's the real deal. You're constantly moving. You definitely feel it."
Twice a week, a hand-selected group of participants join the Tovars and coaches from CrossFit Omaha to take part in a regimen that includes squats, deadlifts, battle rope waves and slams, and a vigorous battery of strength-and-flexibility training tasks designed to target functional ability. Most amongst the group have long since discharged from formal rehabilitation, but all are survivors of catastrophic brain or spinal cord injuries.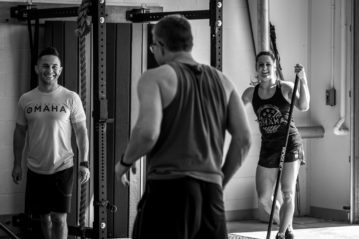 The program is more than exercise, more than a way for injury survivors to boost their physical fitness. As with everything that involves QLI, the adaptive functional fitness program is driven at its core by culture and by a relentless commitment to excellence. In creating a program that maximizes its participants' physical abilities, QLI placed equal emphasis on cultivating not only a sense of community, but an overwhelming sense of achievement.
That community and consistent achievement manifest as the result of trust and empathy, key components of the genuine relationships the Tovars and coaches foster with program participants. In QLI's gym, collaboration is the bedrock, but its coaching never compromises purposeful motive for the number of reps a person can do or the heaviest weight a person can lift. Failure is a benchmark, a springboard, a first square. When milestones are achieved—or barriers shattered—what results is communal pride.
"Every day you push yourself to the point of failure," said Chad Arnold, who graduated from QLI's spinal cord injury rehabilitation program earlier this spring.
"But then you get further beyond. To have people around you who truly believe you can stomach going beyond your limits, you start to believe it, too. You gain the strength to become your own hero. That confidence, that community—it changes your life."
While QLI's adaptive functional fitness program is currently hand-selecting participants, the program is expected to open operations to the public in the future. We're excited to share more about the program in the coming months, and you can see all of its new developments on QLI's Instagram and Facebook pages.