It seems some are born with a calling. From a young age, they march clearly towards the goal they are inspired to pursue: garnering qualifications, showing proficiency, and knocking down any obstacles along the way. To accomplish such a designation takes a great deal of discipline, time, and effort to achieve. There is no shortcut. But it is a price happily paid for this thing that fulfills them.
Oscar Guillamondegui was one of these people. He had a goal rooted deep within his mind from an early age. Oscar wanted to help people—to lift them in their darkest times—to help improve their condition.
He wanted to be a doctor.
…
It took four years to obtain his bachelor's degree. It took another four for medical school. Nine and a half more years combined in residency, research, and fellowship. Oscar spent these years building his expertise. He joined the team at Vanderbilt University Medical Center, one of the leading trauma care facilities in the United States, shortly after the end of his fellowship. He was there for over twenty years, beginning by managing trauma and acute care surgery and becoming an associate professor of surgery, all the while making lasting connections with his patients and colleagues alike. Around 2012, he was awarded the prestigious title of Professor and Chief, Division of Acute Care Surgery.
In 2022, Oscar sought treatment from his peers for a health issue. His doctors suspected osteomyelitis—an inflammation or swelling inside the bone. His team recommended getting a CT scan to learn more. Unbeknownst to Oscar and his medical team, the infection had spread to his heart. At that very moment, lying in the scanner, Oscar suffered a debilitating left-sided stroke.
…
For the next two months, Oscar was on the other side of the white coat. For decades, his surgical gifts allowed others the opportunity to recover. Now, Oscar would be on the receiving end as he recovered. When the time came, Oscar readied himself to leave the care of Vanderbilt and fly to Omaha. In a video of his farewell, Oscar is wheeled down a hallway—made nearly impassable by the throngs of his peers who showed up to cheer him toward the exit doors.
…
The stroke left Oscar with significant impairment to the right side of his body and, amongst other cognitive and communication deficits, a condition called agraphia—impairing his ability to write.
QLI speech-language pathologist Morgan Smidlein challenges Oscar to create a PowerPoint presentation on his life. The project tests Oscar in a truly functional way, given the countless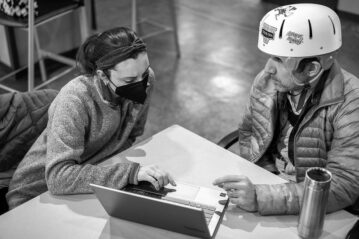 presentations he has made over his career. Morgan notes that in addition to practicing "verbal expression skills" through the PowerPoint, Oscar is also able to hone major cognitive skills such as "memory, attention, reasoning, and organization," all the while centering the content on his life and interests.
The first slide is about his family. "My wife and I have been married for 22 years," he says. "She's a clinical psychologist at Vanderbilt University Medical Center. We have two kids—Isabella, our 17-year-old daughter, and Gabriel, our 13-year-old son. They're both very active in running and sports, and my daughter has committed to Notre Dame for track and cross country." He pauses here, the pride painted on his face. "She wants to eventually attend medical school."
…
Oscar is standing just inside the entrance to QLI's Gait and Robotics Lab, his balance supported by only a single-point cane.
The session starts with practicing a walk down the hallway. One step outward with the right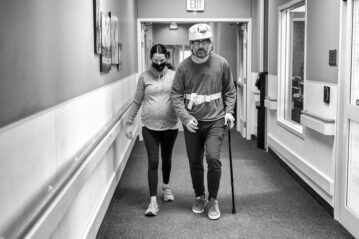 foot, with the left following close behind.
"How are you feeling?" Physical therapist Sammy Porter gauges how hard to push Oscar this day.
"Good," says Oscar. "Can we go down to the end of the hall?" And, with one step at a time, Oscar makes it down the hall and back again.
"I couldn't do this one month ago," he says proudly.
On his helmet is a sticker that simply says:
I believe in myself.
…
They are in the back of the Gait Lab beside a short, mock staircase with three steps going up, a small landing, and another three going down, supported by railings on either side. A perfect setting for practicing both gait and balance.
Oscar tries his right foot. He lifts it shakily, bringing the tip of his shoe to the edge of the stair. Another deep breath and forward, getting the whole foot on.
Afterwards, he gives himself a nod of encouragement.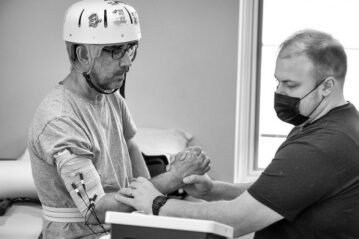 "Well," Sammy says. "We reached over 400 steps today. What do you say we aim for 500 steps next time?"
Oscar nods. "500. Yeah, I can do that."
…
Oscar finishes his presentation, looking forward to the time when he's back home, with his wife and their children ready for the next phase of the journey.
"I would like to get back to surgery," Oscar says. "The motivation that everyone on the team here gives me allows me to see just how far I've come. Even if getting back to surgery isn't a viable option, I know I'd still be able to teach at Vanderbilt." He pauses. "Regardless, I know I just need to take everything in front of me one step at a time."