Tyler Bruck knows a simple fact better than most: 
At QLI, every step is a milestone. 
Over the course of his spinal cord injury rehabilitation program, the 28-year-old has committed countless hours to taking hundreds, even thousands, of steps in the arduous effort to relearn how to walk.
All that practice is necessary repetition. It is a process by which his neural pathways will, eventually, once again send information between his brain and the muscles in his legs.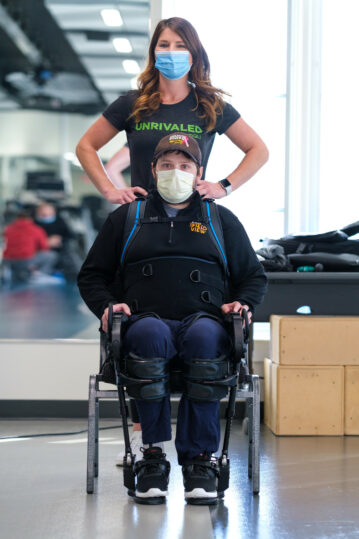 Many of those steps took place thanks to the device he's wearing this very November morning—a robotic exoskeleton harnessed to his chest and braced tightly against his calves, capable of using advanced electric motors to help him stand and walk again. The futuristic device is called the "Ekso," taking its namesake from its manufacturer, Ekso Bionics, a worldwide leader in developing bionic exoskeletons for use in the treatment of catastrophic injuries.
Wearing the Ekso, Tyler sits waiting within the QLI's sprawling physical rehabilitation lab. The room fills with therapists and clinical team associates, and he is soon to be the morning's nominal centerpiece. 
Before this audience, Tyler will pilot the Ekso toward a different kind of milestone: the unit's one millionth lifetime step. 
For nearly eight years, QLI's therapists have utilized the Ekso as a crucial piece of rehabilitation technology. What began as an innovation quickly became a cornerstone of QLI's physical therapy program for multiple, varied diagnoses. Whether as a tool for frequent, intensive gait training or as an effective way to supercharge a user's neuromuscular and cardiovascular health, the Ekso has helped transform lives across the country.
Today, one million steps is not a simple tally. It is a history of achievement.
Promising Beginnings
The start of QLI's partnership with Ekso Bionics was itself a milestone—not only for the clinical services provided at QLI but for the state of Nebraska and, indeed, the rehabilitation industry on a national scale. QLI first unveiled its new exoskeleton in early 2013, and its first steps on QLI's rehabilitation campus also served as the first post-injury steps for QLI rehabilitation alum and then-Spinal Cord Injury Mentor, Jon Schuetz.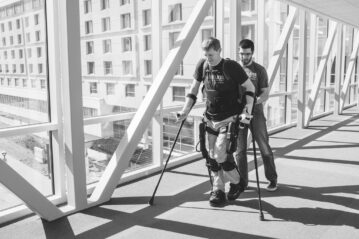 Schuetz suffered his injury in 2007. Six years later, the combination of technology and clinical expertise gave him the power to stand tall once again.

"[Walking again in the Ekso] was pretty amazing, and the suit made it really simple," Schuetz told KETV Newswatch 7 in 2013.
Made possible by philanthropic support and community partnerships, the Ekso's inaugural walk pinned Nebraska's place as a national leader on the map. And cementing its place as an industry innovator, QLI was not only the first rehabilitation center in the state to serve clients with Ekso Bionics's cutting-edge technology, but also the first non-hospital rehabilitation center in the country to have permanent access to the device. 
Always Moving Forward
Following its introduction in 2013, the Ekso quickly became the signature augmentation of QLI's physical therapy program. It redefined gait training for clients relearning correct walking form and provided numerous benefits to individuals recovering from complete and incomplete spinal cord injuries alike. 
But much like QLI, the Ekso itself continued to evolve. Ekso Bionics's Variable Assist software gave therapists the ability to customize elements of the gait training program—including the exoskeleton's upright posture, its response to standing pressure a wearer might place on a planted foot, even the relative support it could provide to individuals requiring more (or less) hands-on oversight.
These software advancements allowed QLI clinicians to apply the Ekso to diagnoses beyond spinal cord injury. Suddenly, altogether new demographics—including individuals who had sustained severe brain injuries or strokes—could also take advantage of the device, doing so in ways best suited to their respective injuries' most unique needs.
At QLI, the Ekso wasn't simply a platform for first steps, powerful as first steps could be. It was a springboard for sustained, targeted training, in many cases propelling clients from heavily supported coordination assistance to independent walking patterns.

"In some way," said Michala Witas, QLI's Director of Clinical Services, in 2015, "this is relearning the right way to walk."
Taking the Stage
The Ekso would always be a source for milestones, whether those milestones were sudden, novel breakthroughs or checkpoints of progress toward long-term goals.
In one amazing moment, however, the Ekso provided the undergirding for a larger achievement.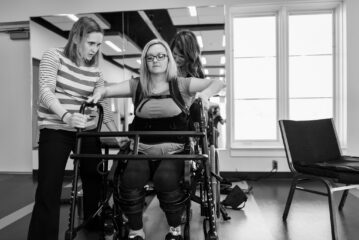 The moment starts in 2016 with a determined young woman—Taryn Schaaf, who had participated in rehabilitation at QLI and previously operated the Ekso as one of its first wearers. For Schaaf, a spinal cord injury had jostled life out of place, but had never entirely placed her own goals out of reach. 
Not long after discharging from QLI's inpatient clinical services, she enrolled at the University of Nebraska-Omaha, where she was accepted into the university's social work program. 
Indeed, Schaaf had embarked on a passion and moved quickly to earn her bachelor's degree. In May 2016, the month she was scheduled to receive her diploma at the school's commencement ceremony, Schaaf decided to make the once-in-a-lifetime moment even more memorable. 
Not only would she accept the achievement she had earned on her own terms—she would accept it taking her own steps.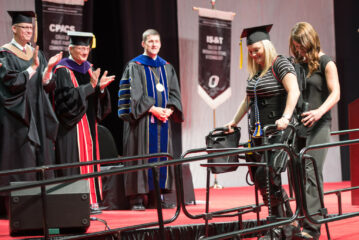 With the help of her physical therapist from QLI, Schaaf stood from her wheelchair, strode up the stageramp, and greeted the UNO Chancellor at eye level, receiving her diploma—and a standing ovation from thousands of commencement attendees—wearing the very same Ekso unit she had trained in for years.
The Ekso turned a pipedream into possibility, and possibility into reality. Though it served as one connective moment in a larger effort to build an inspiring life after injury, Schaaf's graduation walk in the exoskeleton was a proving ground.
"When I received my degree," she said. "It made me feel proud of everything I had accomplished. And I knew then I could accomplish so much more."
One Million and Counting
Back in QLI's robotics lab, it is November 2020. Two-dozen staff line the length of the room. A checkered crepe finish line unfurls some thirty feet from Tyler Bruck and the Ekso, still seated. It's the exact distance he'll need to walk to lead the Ekso past its millionth step. 
Indeed, this is a culmination. Everyone feels it in the hushed anticipation.
Tyler's physical therapist stands at his back, operating key protocols on an LED screen at the top of the exoskeleton's powered backplate. She activates the unit.
And as the room's silence is cut only faintly by the Ekso's purring pneumatics, Tyler stands. 
Applause crashes throughout the lab at his first step. Tyler is the center of a special moment in QLI's history, and in the history of exoskeleton technology within the healthcare industry. He paces confidently, with no need for a walker or even assistive canes.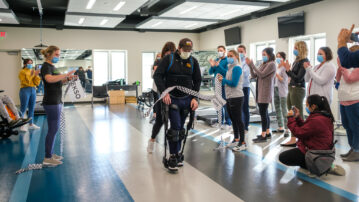 It takes little time, perhaps as little as sixty seconds, for he and the Ekso to reach the finish line. The crepe band breaks easily around his stomach. The applause grows louder as the celebration begins, and it is easy to see Tyler, under his hospital mask, is smiling. 
Tyler, upon sitting again, divulges a secret about this walk, something more important than the milestone he's helped achieve.
"This is my last time in the Ekso," he says. "I don't need it anymore. So this is kind of like a graduation."
After today, he'll begin gait training that focuses more on bodyweight support, one of the most promising signs of progress for someone relearning how to walk independently. Indeed, the Ekso—as has always been the case under the oversight of QLI's specialists—has completed its objective. It ferried this young man from first steps to a future without ceilings or constraints. 
After one million steps and countless moments of forward movement, the Ekso's walk today recontextualizes one simple fact:
At QLI, every step is a milestone. 
But, just as importantly, each takes a closer step to something greater.