"Open Photos—Albums—Up. Up." In the Gait Lab at QLI, Jay Stinson is scrolling through his camera roll. A series of thirty related photos and videos come up, and in the middle row, each one is labeled "1" to "3."
"Number 2," says Jay. A live photo depicts the scene from July 2017. Amidst the churning waters of the Gulf of Alaska, a pulley hoists a massive load of halibut onto Jay's boat. Each photo in this particular series plays out as a sort of digital flipbook, with the scene cutting just as the fish make it to the deck.
"We could be out on the water for 24 hours at a time," says Jay. "Sometimes we went out for halibut, sometimes for lox." A retired commercial fisherman, Jay can pull from countless memories and experiences, discussing to the minutest detail the components of the ships he worked on, how they felt out on the open water, and their reliability to hold strong in unpredictable circumstances.
No matter the patterns of the fish tracked, or the change of the seasons, sometimes there would be a good take—and other times not. But Jay and his peers dug in with each journey regardless of their success, because dedication and persistence are engrained in the profession. To fish at any scale, from recreational to commercial, is to devote oneself to discipline and hard work.
"Close Photos," Jay says. The app minimizes and the screen darkens. He leans his head forward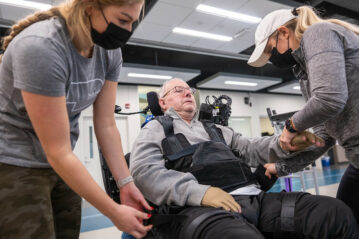 slightly and to the right, pressing the head control of his powered chair, leaving QLI's Gait Lab and going out to continue his day.
…
"It's a place with a climate similar to parts of France," says Jay. "One wouldn't think that wine is a popular crop of Washington State, but it is." After his rewarding career in Alaska, Jay retired south to Washington and with old friends put in on a stake in a winery.
In late May 2022, Jay went for a drive to check on the winery. In the midst of his commute, traffic came to a standstill. A new bridge over the Olympia River was being developed. The traffic became stop-and-go.
While near the bridge, a box truck, missing the signs of stopped traffic ahead, rear-ended Jay. "It turned my car into an accordion," he says. He felt the impact on his neck. "My headrest came forward, hitting my C5 vertebrae." Immediately after that impact, his lumbar vertebrae were severed. As if out of nowhere, the immediate plans Jay had for his life were placed on hold. For others with a similar level spinal cord injury (a lower neck vertebrae—meaning that arm and leg function was nearly nonexistent), the easy road might be to stay in that environment, accepting the results his injury cruelly delivered.
For Jay, stagnation is a death knell. And now after a severe spinal cord injury, Jay found that it was all around him. Following a stay at an intensive care unit at the UW Medicine in Seattle, WA, Jay was transferred to a nursing facility in Washington. Jay admits that he was frustrated with what he viewed as a lack of progress.
"It felt like the therapy I was doing there was more so just 'maintaining' my immediate state after injury," he says. "I needed a program where I could try and see how much progress I could make."
True to his character, Jay did not wait for a miracle to take place—instead, he dug in and, with the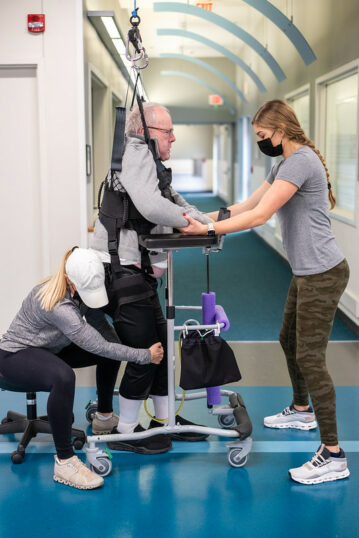 assistance of a physician friend, discovered QLI.
Progress for Jay could mean many things, and he is eager to see what that may look like. "I understood what could happen at QLI. And," he says with a hint of a smile, "I know I'll do all I can to make progress."
Jay's program was equal measures adapting to the level of function he exhibited and pushing his limits to see what recovery could result. Now, every day, Jay engages with highly-trained clinicians who incorporate a barrage of technology to help him reach his highest level of independence and arm him with the tools necessary to navigate life after discharge.
One such tool Jay is relearning, is his iPhone. Twice weekly, he meets with occupational therapist and adaptive technology specialist Olivia Ollis to practice skills such as dictation, calendar planning, and internet browsing- all through voice-activated commands. "Fortunately," says Olivia, "devices like the iPhone are equipped to be fully controlled by someone's voice, and many apps exist, such as Control4, which centralize many home functions." Ollis' position at QLI is unique, in that she is an occupational therapist by education, but additionally received specialized training in the field of assistive technology. She now partners with QLI's Information Technology department, aiding clients in navigating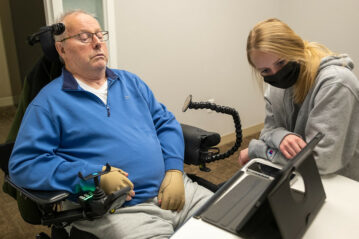 the devices they have (e.g. smartphones, home technology) to make them adaptive or assistive. She also helps clients identify technology that might benefit them once they return home.
____
"There's a 16-foot aluminum skiff I worked on for quite some time," Jay says. "You get a couple of guys working on it, you'd be done in almost no time at all." These sorts of projects for Jay are an added source of adventure and purpose in his retired years.
But now, even with the best-case scenario for improvement following his injury, Jay knows that he won't have the physical ability to work on those sorts of projects in the way he used to.
"There's someone I know," says Jay, "who worked on a similar sort of project, operating a sand-blaster. He ended up losing both of his hands in an injury. He still wanted to be a part of those projects, but it had to be through something different than what he did before. Though he didn't have arms to work with, he could still be involved through the bookkeeping side."
And that's what Jay plans to do. In addition to his boat projects, he is the president of the Alaska Research Consortium—an organization dedicated to building a sustainable fishing future for the state. Through his sessions with Olivia, Jay has re-engaged his involvement with the organization—communicating with others on the Board of Directors, and looking to plan out projects and goals for the year ahead. He's perfectly fine with transitioning to an "overseer" role. To have purpose, to be engaged in the field he is so passionate about, knowing that the work he does matters, and that his future is his own—it is more than enough for him.