*This story was first published courtesy of our friends at LoveYourBrain. To learn more about LoveYourBrain's clinical services, visit their Clinical Affiliate information page at https://www.loveyourbrain.com/clinical-affiliate-program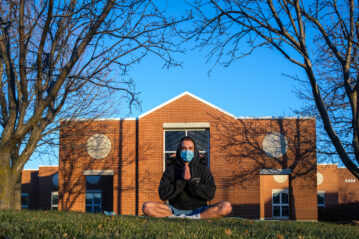 Even in those first days, affixed to a hospital bed for his own security, 20-year-old Korrin Williams relied on mindfulness to reckon with the enormity of traumatic brain injury (TBI).
"I couldn't speak," he says about his condition in those waking moments, the result of a catastrophic skateboarding accident. "I wasn't safe to move away from a bed. But I would try to get myself into a headspace where I didn't think about the past and all that had changed, where I didn't think about the future and all that was uncertain. I tried to think moment to moment, second to second."
That control came easily to Korrin, a New Mexico-native who'd spent much of his youth living near the state's Zen communities and working at a local Bodhi Center. Meditation was a daily ritual. A kind of self-care, whose health benefits he'd known to a nominal degree.
The injury, however, had changed things. In some cases, the effects were minor—once free of the hospital bed, for instance, Korrin learned he'd sustained only subtle physical setbacks. He could still walk and move his arms with a pre-injury range of motion. But cognitively, everyday life looked different. Words were harder to summon. It became more difficult to describe objects and emotions with clarity. And previously unremarkable tasks had become just complex enough to sit out of reach. For these situations Korrin required extra cueing, additional guidance to set a reminder for an important deadline or to manage his schedule to accommodate upcoming appointments. Even with functional tasks, like meal preparation, Korrin needed supervision to manage his step-by-step processes, or to simply keep himself safe.
It would take work, in short, to get Korrin back to a sense of normalcy. Lots of it, set within an environment where clinical experts could shape and mold his cognitive routines with true-to-life practice.
Three months after suffering the injury, Korrin transferred to QLI—a specialized inpatient rehabilitation center based in Omaha, Nebraska—where he not only participated in a rigorous physical therapy program to bolster his still-mending strength and conditioning, but worked closely with life coaches, neuropsychologists, and clinical specialists to rebuild the skills he would need for successful independent life.
"By the time he arrived at QLI, Korrin had already made significant gains physically and with his communication abilities," says Sara Waid, an occupational therapist at QLI and one of the key members of Korrin's clinical team.
"Our job was to determine where his goals were. Does he want to sell art or judge snowboarding competitions or go back to school? At 20 years old, we're all trying to figure out who we are and where we want our lives to go. That process is so much more complicated with a TBI."
QLI's clinicians assessed Korrin's cognitive standing and the global influences within his personal circle that might stifle his progress. The team largely took into account the direct physiological and psychological effects of his injury. But less tangible—and, yet, no less important—aspects were considered as well.
Top amongst them—Korrin's emotional state.
"The emotional component was a significant piece of his program," says Waid. "There's understanding the ways in which a brain injury can affect emotional regulation, but there's also the understanding we, as clinicians, must have of his social circle. Of negative influences in a person's life. How would poor decision-making or negative social supports or the threat of substance abuse affect a person's recovery after they've returned home from an injury like this? And how, most importantly, could we help equip someone with the tools to manage their own cognitive well-being when we're not there?"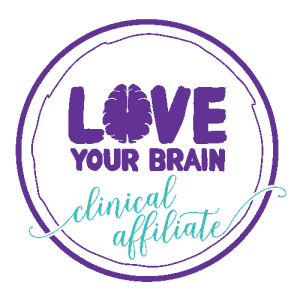 In this question was an opportunity. Here, in marrying physical and cognitive therapy to a kind of emotional rehabilitation, QLI harnessed one of Korrin's lifelong passions: Mindfulness.
And as a Clinical Affiliate of LoveYourBrain Yoga, QLI had the perfect outlet. Shortly after arriving at QLI, Korrin began attending a six-week long yoga and mindfulness course with a certified LoveYourBrain Yoga instructor, joining a small group of individuals recovering from a variety of diagnoses.
Some of those individuals, like Korrin, were survivors of life-threatening brain injuries. By contrast, others had suffered severe damage to their spinal cords—neck injuries or back injuries that paralyzed or otherwise impaired motor function beneath the site of injury. Those in wheelchairs utilized modified yoga movements to stimulate increased function, which sometimes required hands-on assistance. A clinical aide might help lift an arm, for instance, or even safely help individuals rise to their feet.
Korrin performed these modified movements, often using an office chair pulled quickly from a nearby workspace, in a careful gesture of solidarity.
"That itself was a powerful show of empathy," Waid says. "Those kinds of interactions became more common as the course went on. And you could see his respect for people who might not have been as far along as he was. When we talk about impacting a person's emotional mindset, that really demonstrated the breadth of the change we saw in Korrin here."
For Korrin, LoveYourBrain Yoga classes sparked an increase in his daily reflections. Quotations and philosophical passages shared amongst the group empowered him. He referred to the course's guidance during other therapy sessions, and, over time, made a point to relate his feelings more openly with the clinicians he bonded with most.
"He'd bring up changes he wanted to make in his life," says Susan Gruenling, one of QLI's LoveYourBrain instructors, "and it was clear he was thinking really deeply about what would improve his life going forward. Things he wanted to include in his future, people who were negative influences on achieving his goals. He began talking more about practical ways he could create peace and joy for himself."
"Korrin was great to have in the course," she adds. "Because even though he was ambulatory, where many of our patients aren't, the yoga movements were still pretty new to him. But his interest in yoga and background in meditation helped him bridge the gap. You could see it meant a lot to him to be a part of this."
Months passed at QLI. Months of 40-hour weeks with clinicians at his side, months of grueling effort in a diverse swath of therapy sessions. From CrossFit to academic training to hands-on counseling sessions, Korrin applied himself with one word in mind: recovery.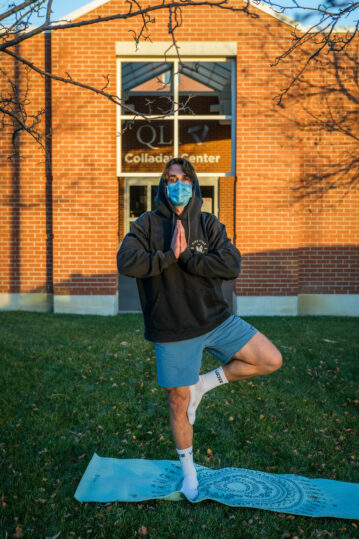 And after nearly five months of intensive training and cognitive repetition, Korrin had regained many of the skills he'd lost to the injury. He'd embarked on new insights, as well. By the week preceding his discharge home, Korrin had forged an independent life on QLI's campus—cooking, cleaning, managing his own schedule, budgeting, walking from building to building, planning day-to-day activity, and outlining the sketch of his future on his own accord.
Now back home in New Mexico, he continues remote training with QLI's LoveYourBrain team, a way in which he maintains a newfound sense of well-being in a lifelong journey beyond injury.
In the shadow of tragedy, Korrin's story isn't defined by loss. It is defined by gain.
He's a youthful testament to the powerful intersection of clinical expertise and targeted, structured mindfulness training. And he eagerly awaits the chance to share his unique perspective with those who face challenges in their own lives.
"There are terrible things in life, bad and good all at once," Korrin says. "LoveYourBrain is one of those things that shows the hardships are only hard when you run from them. Breathing, accepting, moving—those are the pieces of recovery."