The electric guitar rumbles with a shifting pitch as the E string is tuned. In tandem, across the rehearsal space, the bass guitar follows suit. The bass and guitar amplifiers, resting on a nearby couch, thrum loudly. With the volume adjusted, and both instruments tuned to perfection, the rehearsal begins.
The makeshift band has been playing and replaying the song for a few jam sessions now, each time refining the introduction through the first chorus. The song is Red Hot Chili Peppers' 1991 hit "Under the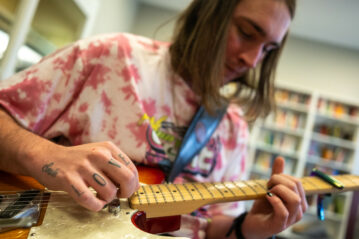 Bridge." It is a song that is deceptively complex, requiring patience by way of practice. The work a musician puts into navigating the hidden complexities of "Bridge" will lead to a reward, given time.
Twenty-four-year-old Eric Zimmerman knows this equation well. Being unapologetically cliché, he will proudly admit to anyone that music is his life. The pursuit of mastery through repetition and the atmosphere the performing live music conjures proves intoxicating for Eric. But for many years, his passion for music lived congruently with substance abuse. Eric's pursuit of music fulfilled his life, while the pursuit of the latter fix nearly cost him his life.
…
Eric's passion for music began in elementary school, growing up in Naperville, Illinois, a middle-class suburb of Chicago. "I listened to the Beatles, Lynyrd Skynyrd, and Stevie Ray Vaughn. I immediately wanted to learn how to play the guitar and bass—I was hooked." Music may have been his passion but Eric's interests were as diverse as his iPod. He played football, basketball, and volleyball. He was active in his high school's theatre and jazz band programs.
Yet, for all the great influences that were giving Eric purpose, there were equal and opposite influences at work. "I fell in with a bad crowd in high school," Eric remembers. He began taking drugs, and "chasing the dragon" led to all-consuming addictions.
Still, in the midst of it all, Eric had his sights set on the future. Coding and computer programming were another of his deep interests. He studied computer science for two years at Iowa State University before moving back home to Naperville and resuming his studies at the Community College of DuPage. Eric knew his addiction was a detriment to his ambitions and was admitted to a drug rehab center in early 2021. Though he was clean for some time after discharge, he started to use again.
…
Eric's memory of his overdose and subsequent brain injury in August 2021 is hazy.
"I was in a coma for about two and a half months." As a result of the overdose, Eric suffered an anoxic brain injury, caused by a lack of oxygen getting to his brain. While in the coma, Eric's weight dropped from 155 pounds to around 80 pounds. Things were looking so grim for Eric that his family planned for the worst scenario.
"It came to a point where there wasn't much else they could do for me," says Eric. "They made the decision to remove the tube helping me breathe and see if I could breathe on my own."
Eric's intubation was removed. Miraculously, Eric began breathing on his own. Soon, he came out of the coma and was medically stabilized. In the following months, Eric made progress at Thrive of Fox Valley in Aurora, IL, before admitting to QLI in May 2022.
Eric's time at QLI has been spent building cognitive and physical strength. "You can only surmise so much about a client from their admission papers before you meet them," says physical therapist Sammy Porter. "I was so excited to see how motivated and keen he was to regain independence and to begin the healing process." Because of Eric's brain injury, his lower body strength was significantly impaired through ankle contractures—necessitating surgery—while his upper body strength was still nominal. Partway through his time at QLI, Eric had surgery on his Achilles tendons. Before the surgery, his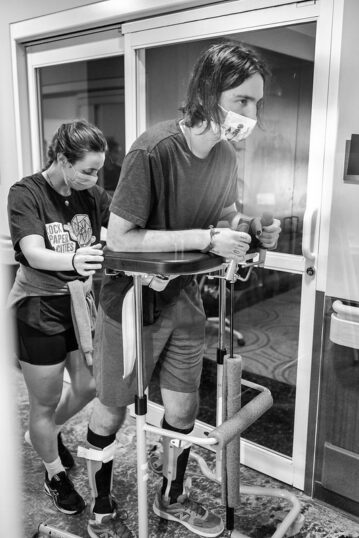 physical therapy sessions were centered on assistive devices that could provide weight-bearing support—such as the ZeroG harness and EVA support walker. As a result of the surgeries and continued rehabilitation, his strength has progressed significantly.
"Now," says Sammy, "we're able to shift focus to improving the cadence and tempo in his gait and refining his body mechanics." Though he utilizes a wheelchair to get around campus—he has transitioned to using a walker for mobility within the buildings on campus.
In equal measure to gaining back physical independence for Eric is the pursuit of professional independence—garnering the skills needed to enter the workforce on his terms. Information Technology (IT) is his desired field—and while he's not sure yet exactly what role he would want to take in the burgeoning industry, he knows that to excel in the field, he needs the credentials for the job. QLI's Life Skills team has guided Eric in pursuing an IT skill certification through CompTIA.
"The structure of the certification process allows for us to work with Eric to develop a good studying system," says speech-language pathologist Zoey Bertsch, as she works closely with Eric to ensure that he is well prepared to take the certification exam. In their sessions together, Zoey works with Eric to identify the deficits to overcome in his preparation. With Zoey's expertise, the structure added to Eric's studies is seen in the utilization of various tools, as well as weekly tests. "I would look with Eric off campus to find study materials he would need—things like erasable pens, study planners, and a website where he could create some weekly tests and quizzes for himself," says Zoey. "When we meet, I check in with how the studying is going—to provide that accountability."
"The work for the certification has been tough," Eric admits, "but I feel confident that I will pass my exam."
Getting back to playing the guitar and bass is of significant importance to Eric, and his daily therapies helped to ease him back into the rhythm of practicing. "One thing I've worked on consistently with my occupational therapist is finger exercises. This exercise not only helps me with typing on a computer keyboard, but also builds better dexterity for my fingers when it comes to forming chords on a fretboard, or holding and strumming a pick," Eric explains.
His program is uniquely Eric.
The combination of song practice (like "Under the Bridge") and simple jamming, allows Eric to tap into the passion that has been so meaningful in his life. The performance aspect of it also offers a synthesis between programs such as Life Path and Eric's physical therapy—as he begins to work on low-support walking and standing in his physical therapy sessions. Eric applies these physical skills in his practice—with a goal being for him to play the bass standing up at a forthcoming concert playing alongside other QLI clients.
Similar to his exam, Eric is confident in what the future holds but despite being confident, he also knows that it will be difficult. He's been sober for over a year and a half—ever since his injury. "The disease of addiction will follow me for the rest of my life," he says. "But I know I have the willpower to resist and fight it. You learn after events like this who the individuals are that truly care about you. With the good forces and influences in my life, those made before my injury and through my stay at QLI, I know I have the systems of support and encouragement I need for the future."