Craig Engel begins each day at 3:00 a.m.
In that quiet hour he works through a practiced morning routine. He double-checks the day's date and the weather with an Amazon Alexa device. Then, donning his uniform, he drives the twenty-minute commute separating his rural hometown from Lindsay, Nebraska.
By 4:00 a.m., he arrives at the Nebraska-based manufacturing arm of global irrigation and transportation giant, Lindsay Corporation. He makes a pot of coffee as his coworkers trickle in. They gather in the break room, sometimes playing a hand of cards or talking about the day ahead.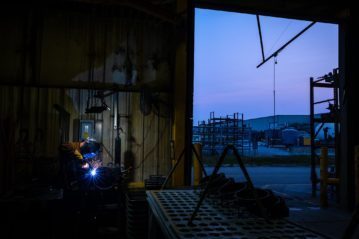 At 5:00 a.m., in the last morning darkness, Craig finds his weld station near a 30-foot-tall warehouse shutter, open to the facility's criss-crossing truck lanes and the rising sun to the east.
Here, over the next ten hours, Craig uses a hydraulic press to bend dozens, sometimes hundreds, of steel slats into perfect rings and welds them closed. When complete, these rings align spans of piping for Lindsay Corporation's Zimmatic-brand center pivots—the wide, arcing irrigation machines familiar to anyone who's spent time on a midwestern farm or taken a scenic highway drive past miles of open cropland.
It should have always been this way for Craig. Working the job he loves, plying his talent for welding—a skill he picked up as a boy helping on his grandfather's farm.
For a time, it was. 
"Before the accident, we were right where we wanted to be," says Carol Fuehrer, Craig's wife.
"It was kind of perfect."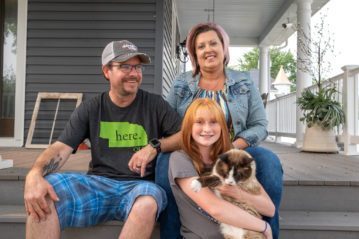 Craig and Carol had carved out a version of paradise in Genoa, Nebraska. They owned the home of their dreams. Carol ran her own hair salon. Craig had established himself as the top welder at Lindsay Corporation. Together, they were finalizing an adoption to bring a bright new light—their daughter, Ashley—into their lives. 
On September 20, 2013, a two-car collision, which injured five of the individuals involved and took the life of one passenger, shattered that perfect life. Craig, whose car was struck in the driver's side by a pickup truck, withstood a near-fatal traumatic brain injury amidst multiple broken bones.
"The doctors described it as 'all-over surface damage,'" Carol said. "Basically the only thing keeping Craig alive was the tube down his throat."
TRAINING BEYOND INJURY
Following the accident, Craig began what would become a lifelong journey toward recovery. After receiving life-saving hospital care and participating in the first foundational steps of rehabilitation, Craig transferred to QLI in November 2013.
Though he demonstrated impressive physical progress within the first months of his recovery, even showing himself capable of walking independently, his cognitive progress was slow, requiring intensive, precisely structured training each day.
"I was told he was 'more asleep than awake,'" Carol said. "You could see it in his face that he was in a fog."
"QLI focused on his cognitive thought. It was all the hard stuff, all the stuff that would make sure he, you know, would have a life with meaning and purpose."
Carol recalls QLI therapists building routines so Craig could complete everyday tasks. Articulating even the smallest functional details—"sit down and keep your feet flat on the floor" rather than a simple "put on your shoes," for instance—these step-by-step routines not only walked Craig through every process with careful attention, but, repeated over and over and over again, molded Craig's successful procedures into muscle memory.
This process of cognitive reconstruction started simply, with tasks a passerby might consider trivial. Proper dressing, showering, shaving.
The scope broadened with time. During a clinical program that spanned seven months, Craig's functional skillset grew, including not just communication and the successful management of daily needs, but even operating a golf cart around QLI's campus. In the following months, Craig would dovetail this regained comfort behind the wheel into a full-fledged return to driving his own truck.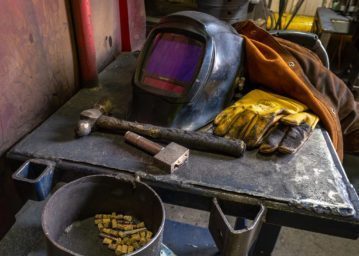 Late in his stay at QLI, Craig and his therapy team visited a local welder, who tested Craig's general welding knowledge and ability to react appropriately in emergency situations. While his reaction speed was slower than necessary to safely operate the machinery and materials of the trade, Craig had, in fact, retained much of the knowledge he'd wielded before the accident.
It was a surprise revelation, a shimmer of hope.
Yet, despite his successes, by May 2014, the point at which Craig returned to Genoa, uncertainty clouded his future as a professional welder.
SMALL TOWN STRENGTH
Humbly occupying a space smaller than a square-mile, Genoa feels like a town portaled from thin air into the middle of Central Nebraska's verdant, rolling farmland. The town's quaint main thoroughfare offers visitors a gas station, a bank with an ATM, a corner market, two cafes facing off from separate sides of the street, and a historical museum, where those curious can glean factoids about Genoa's lineage as a mid-1800s Mormon colony.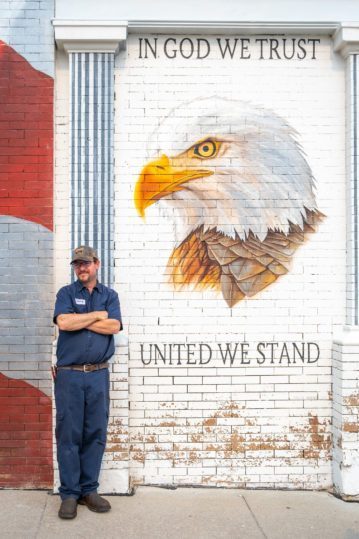 It's a place where out-of-towners are easy to spot. But its nearly 1000 residents web together into a single committed family unit.
Carol states she "left Genoa and didn't come back for nine months," a window of time during which relatives, neighbors, and friends throughout town volunteered to help the family. They watched the home, fed the cats. One of Craig's closest work friends, Jack Harding, even stepped in to manage the family's finances while they labored through rehabilitation some 120 miles away.
The hometown community continued its fervent support of Craig well into the early months of his relocation back to Genoa.
"We had several volunteers from in town," Carol says, "who would come by after I left every day to wake Craig up and exercise with him. He struggled from being asleep to awake, awake to asleep. Exercising was the same way. It was a struggle for him—he hated it. But we saw such a huge benefit in him when he worked out."
She adds: "It went like this until eventually he would just wake up when he needed to."
His path to regular employment followed a similar trajectory, benefitting early from hands-on assistance. One of the family's neighbors, a local contractor, took Craig under his wing, doling out odd jobs and simple handiwork. Eventually, Craig earned a position at Genoa's Sack Lumber warehouse, where he was made responsible for organizing the lumber yard's inventory.
"Things like filing were really good for him," Carol says. "It was all cognitive rehabilitation, just now it was back home."
She laughs, then tells an anecdote: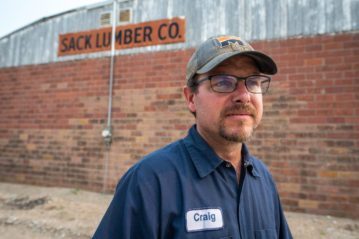 "For us, we hit a milestone at Sack [Lumber] when he had filed two types of wood opposite of what they were supposed to be. At the time, he hated anything physical—he was still in a bit of pain—so instead of taking the wood and moving it to the right spots, he just unscrewed the signs and switched them around to make it look like someone else filed it incorrectly.
"He'd made a mistake, obviously, and switching the signs didn't solve the problem. But that was our first sign that his brain was working on that kind of problem solving. You know, figuring out how to cover his tracks like that."
When asked if he got away with the clever maneuver, Carol responds quickly, again with a laugh:
"No. They figured it out right away. But it was still this fun moment of seeing Craig break through."
PUTTING THE PIECES TOGETHER AGAIN
When you have a conversation with Craig Engel, it doesn't take long to land on the topic of his welding career.
His eyes go wide. Every word is said smiling, carrying a wild concoction of feeling. Nostalgia. Hope. Determination. Tremendous admiration for his former-and-present employer. Listening to the stories he shares with friends and close coworkers, it's difficult to believe his comeback was ever in doubt.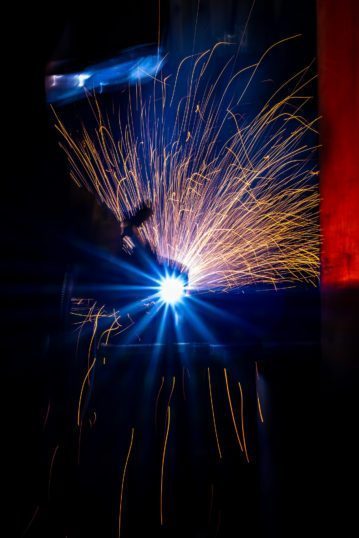 "I don't know if I was in my car or in my coma," he says, "but I remember seeing my grandpa up in Heaven with these two sparklers in his hands. I think they're the actual arc sticks. I don't remember anything else but seeing his face and the way he looked. And he goes, 'Craig, everything will be fine. You'll be welding again at Lindsay.'"
Yet, even after months of employment around Genoa, Craig's road back to welding—and welding for Lindsay Corporation—remained foggy.
In 2015, Craig himself initiated conversations with Nebraska Vocational Rehabilitation, a state-funded program that links individuals with disability to relevant employment opportunities across the country. The program administered a hands-on welding test, only the second formal weld test Craig had experienced since his injury, which pinpointed his on-the-job strengths and his needs as a potential employee.
"They determined his speed was not high enough to get a factory job," Carol says, "but his ability to weld was extremely high, even though it wasn't fast."
That skill was impressive enough to cement a place at Columbus Hydraulics, where he joined the team as a finish welder to oversee many of the manufacturer's more complicated welding tasks.
As was the case in his rehabilitation and in the early months of his time back in Genoa, a deliberate structure and detail-focused systems of support were critical to his continued success. Columbus Hydraulics and Nebraska VR modified a part-time schedule to accommodate Craig's limited-but-improving cognitive and physical endurance. For his first six weeks on the job, Craig welded just four hours a day and used a smartwatch to provide daily calendar alerts.
It was a far cry from the way he'd been accustomed to doing his job. But he'd put himself back on a familiar path. That was motivation enough.
"I had a lot of doubts that I could even do this," Craig says. "But every day before work I sat in my truck in the driveway and thanked God for the chance to weld again. And as long as I could get to work and make it back home to my wife and my family, I'd have the chance to do it again the next day, too."
FULL CIRCLE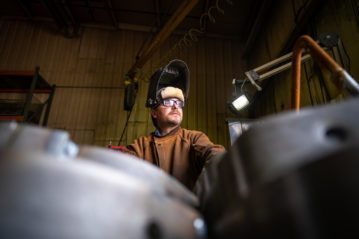 Rick Zoucha, welding team lead at Lindsay Corporation, remembers the first time he saw Craig after the accident. It was a happenstance meeting at a local store in Grand Island, Nebraska.
"Craig recognized me right away," Rick says. "He remembered everything. He remembered who I was. Even after everything he'd been through, the brain injury and everything. I mean, that was really impressive."
Rick adds: "He told me he really missed working at Lindsay. So I told him he should put an application in."
By 2018, Craig had improved so dramatically that he'd assumed full-time, 10-hour-shift responsibility at Columbus Hydraulics. With that confidence and the power of suggestion, Craig did exactly what Rick had recommended.
Lindsay Corporation was quick to call him back. Within days, he faced another welding test, the third and final setpiece of a three-act arc. His first preliminary test at QLI was a glimpse at what might be possible. His second test, the exam coordinated by Nebraska VR, showed his capability and his continued need.
This time, armed with not only a lifetime of knowledge about the craft but years of post-injury welding experience, Craig met and exceeded the benchmarks expected of every Lindsay Corporation welder.
He had earned his spot. Reclaimed his station. His journey had come full circle.
"I was confident I had it in me at this point," Craig says. "But to go back up there to see my old friends, remember all these things from the past I'd forgotten about. The environment. To have all my buddies come up to me and ask if I remembered them. I almost cried right there."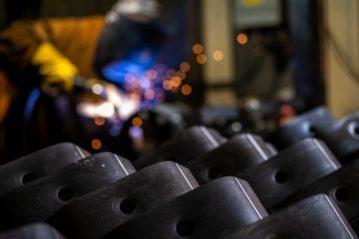 This June, Craig celebrated a full year back at Lindsay Corporation, a full year of a schedule very similar to the worklife he'd cherished before his world spun out of control. He welds at least five days each week from before sunup until 3:00 p.m. Often, he chooses to stay a few hours later or spend an extra morning in the factory over the weekend when he knows it'll give him—and the company—a jump on the quota.
Every detail in the image of Craig at his workstation broadcasts the tremendous pride he has for his trade. He sports a two-month-old American flag baseball cap blackened by char, one he hasn't replaced because "it has character." He organizes his tools and thoughts at a utilitarian scrap steel table of his own design. And he gives painstaking consideration to each weld, keenly eyeing every square-inch for the slightest imperfection.
"Welding is an artform," says Doris Wemhoff, Lindsay Corporation's senior human resources generalist and the person who made the call to Craig, inviting him back to the company.
"Craig is competitive with himself. He always strives to do better. He's going to make sure he masters anything he works on."
Craig's commitment to mastery—and the self-awareness needed to acknowledge his continued growth—remains a key component of his journey forward. Since Craig's return to Lindsay, he has specialized in performing large quantities of manual welds, rather than programming Lindsay's high-tech robot welders. It's both a reflection of his technical proficiencies and an insight into the gaps where Lindsay's welding team looks to support his development.
"Every day, Craig learns and remembers just a little bit more about the specifics of his welds," says Melvin Boyd, a welding team leader for Lindsay.
"We put Craig on jobs where he can excel. That gives him pride in what he does. As he progresses, he is placed on gradually more complicated welds. Slowly but surely, that gets him jogging the mind or asking questions about the right way to perform these more complicated tasks. With more successful repetition on those complicated jobs, we can get him to there from here."
At Lindsay, Craig's welding technique is shaped like molten metal in a cast. By learning how to perform high-level welds to exact specifications, and then repeating that successful performance time and time again, Craig commits the process to a kind of automatic memory. The very act of welding becomes second nature. All the possibilities for mishap or error are smoothed out.
It's a mirror image of the process Craig used in rehabilitation to learn even the most basic of skills.
"We are not going to let Craig fail," Melvin says. "We're more concerned with nudging him in the right direction. In a year or two, he'll probably be leaps and bounds ahead. If we had a way to mark that progress—I wish I did—to say here's where he started and here's where he's at. There's always forward progress. It just takes time."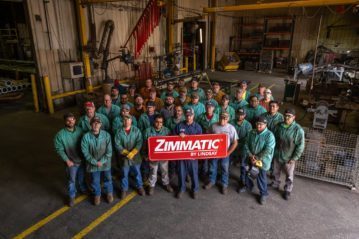 A FUTURE TOGETHER
Though seen as an inspiration and referred to as a miracle, Craig quickly passes the credit to the community, both for the support within Genoa and at Lindsay.
"I know it's not just me doing this on my own," he says. "We're such a small community that this support shouldn't be a surprise. We're like family everywhere here in this small town. All of us, family. If it were to happen to someone else—say a neighbor got hurt or someone else in town—I know we'd all come together the same way."
Craig speaks to an important truth—the injury didn't affect him in a vacuum. The event had a gravitational effect on his family and the greater Genoa community.
The inverse is true, too. Craig's victories and accomplishments impact everyone in his circle. His family and hometown live vicariously though his new milestones.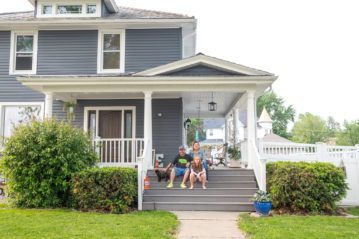 Yet, Craig's life is more than work now, more than the hours spent behind an arc stick and a polarized lens shade. Just as he sears disparate pieces of steel together into a stronger, more purposeful unified whole, Craig is the ultimate connection point for Carol and their 12-year-old daughter, Ashley.
Together, as a family, they have the luxury of enjoying their familiar slice of midwestern paradise—a beautiful home nested within Genoa's remarkable, congenial pocket of Nebraska farmland.
There is still work to be done, ways in which Craig can—and will—continue to meet new challenges or assume new responsibilities. But he is living proof that recovery doesn't come stamped with an expiration date, that catastrophic injury isn't a simple equation with a simple solution, that time and structure and routine and deliberate focus have a way of sundering the ceilings blocking all headway.
You can call it good luck or even a stroke of chance that Craig gets to share his story with such a note of triumph. He prefers to credit his faith. That, and a dash of really, really hard work.
"God gave me a second chance," Craig says.
"Now it's my job to live up to those expectations."