When does an annual family event become a cherished tradition?
Is it after three years? Five? Ten? Or, is the meaning and depth measured by something more significant than time?
Maybe the best way to know if something is truly a tradition is by the degree of sadness you feel when you believe it's gone.
This was the prospect Juan Rodriguez and his family faced when they thought their yearly trek to Santa's Woods in Blair, Nebraska to pick out a Christmas tree wasn't going to happen.
For many years, the Rodríguezes scoured the grounds of a local tree farm on a quest to find the perfect holiday centerpiece for their home. The tree symbolized faith, family, and the season. There was no doubt it was tradition.
Juan's wife, Eilene, recalls how she felt when her thoughts wandered to how different Christmas might be this year. "I had to block it out of my mind so my heart wouldn't feel it. I think that kind of numbing myself to the highs and lows has been part of my grieving process since the accident. It took so much from us, that I couldn't dare dream of traditions like this still being possible."
The accident happened on May 31st, 2021.
Juan was driving home from a camping trip with his son Javan when they were struck from behind by a semi-truck on Interstate 80.
Juan recalls the vehicle rolling several times down an embankment and coming to a stop upright.
He immediately checked on Javan in the passenger seat.
Juan calls this part of the story a miracle. His son, Javan, walked from the mangled vehicle to the safety of a stopped motorist. Javen was completely unscathed.
Once he knew Javen was safe, Juan assessed himself. He couldn't feel or move his legs. His arms were leadened and he could barely open his hands. He knew it was bad.
Fast Forward.
Saturday, November 27th, 2021
Santa's Woods Christmas tree farm – Blair, Nebraska
Juan pressed a button on the gearbox and engaged the standing mode on the all-terrain Action Trackstander wheelchair. He deftly moved his right hand onto the joystick and smoothly pushed it forward. The motor engaged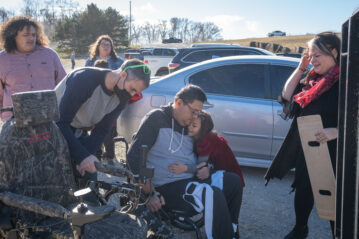 and he gradually began to rise.
The beautiful Christmas tree the Rodriguez family had just found was the perfect backdrop for what would be their most memorable holiday family portrait.
Ed Armstrong, Coordinator of Adaptive Sports at QLI, observed the moment intently. "When Juan stood in that chair, every member of his family started to cry, walked over and hugged him. That was a big moment. When I saw Juan coaching his children through the emotions, I thought, 'dad's back'."
For Juan's wife, Eilene, and their 4 children, Kiara, 24, Xander, 18, Javan, 8, and Teiliana, 5, it was a big moment indeed.
Eilene said, "When that chair enabled Juan to go into a standing position, I fell apart. I was looking up at my adoring husband standing taller than I for the first time since the accident. I was reminded of the strength that still exists and the fact that no matter what, I will always look up to that admirable strength."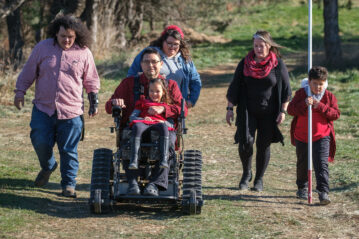 The day was a celebration of countless and arduous hours logged in therapy as Juan strives to recover from his spinal cord injury. The gains he's made during his sessions granted him the strength, endurance and balance to finally utilize a slide board to transfer. His renewed dexterity and mobility in his arms and hands empowered him to captain the Action Track chair independently across the uneven hills of the tree farm.
Juan's physical therapist, Anna Calgaard, commented on Juan's increasing independence. "The slide board transfer in and out of the Action Track chair is challenging given the incline and the width span that you have to go between both chairs. We tried a couple of different strategies ahead of time and ultimately landed on the one he did that day. I was so impressed. It's hard to believe he was a Hoyer lift transfer when he came to QLI. Juan just keeps impressing us with what he's been able to accomplish here in such a short time."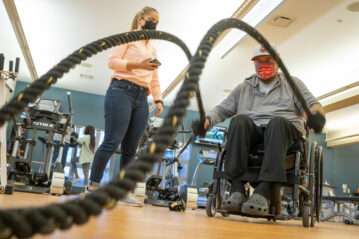 Without the vision and expertise of Juan's team combined with an Action Track chair that was gifted to QLI by a generous donor, the tradition would have certainly ended.
Ed's takeaway from the day runs deeper than what a casual observer might have seen. "The tree is a symbol of what else is possible. It's a mindset of perseverance and finding a way to do it."
Eilene's reflection offers the most fitting and powerful ending to this story:
When I found out that the tradition could still happen and that there was a whole team willing to put together a plan, I just couldn't believe it. The trip renewed my hope in what the future can hold. It opened my mind up to dream again and imagine the possibilities. It reminded me that we have so much to fight for, and we will. It taught me a lot about reaching out to people with resources and knowledge. Where walls have been built in our lives, there are people willing to break them down for us. The fact that a team came together for us, the Rodriguez family, well, it blew my mind. Nobody said, "Oh, that's too bad. This is life now and you will have to let go of a lot of things." Instead, they said, "Let's make it happen!" Everyone at QLI amazes me with their timing, intuition, and guidance. It's not just another project or patient, it's a life to renew and strengthen. We will forever hold onto memories of this trip and "angel armies" that God places in our lives.
We'd like to wish the Rodriguez family a very Merry Christmas. We are honored to share your story, and now be a part of such a meaningful tradition.