A dozen canvases stand on easels in the QLI East Campus Hobby Room. The pieces of art are in various stages of completion, and owe from a variety of mediums—watercolor paints, oils, or pastels. There are even some papier-mache and sculptures sitting atop the racks and shelves. This room radiates invention and creativity—an outlet for expression. The creators of these projects are residents of QLI's East Campus—the section of campus that houses the Summit and Lied Apartments. Though longer-term in nature, their journey does not end here, but continues and flourishes, providing a space for a home with the care and support they require but in an environment with peers of a younger age and similar needs than traditional care facilities.
…
Today is an open art day in the Hobby Room. All the tables have been pushed together to form a massive workspace. As people file in, the excitement and camaraderie among the artists is palpable.
There is an 80s playlist pulsing from the overhead stereo system. Occasionally someone in the midst of their work wonders aloud—"Who was it that sings this?"
Without missing a beat, someone will respond with "Billy Idol" or "Madonna" or "Michael Jackson."
Many have known each other for years and finally, these sessions in the Hobby Room reached an entirely new height of importance. From the onset of the pandemic until late March 2022, QLI's East Campus took significant precautions to ensure that East Campus residents and team members remained safe and healthy. The Durham Center, the connective hub of East Campus, was limited to only residents from either the Summit or Assisted Living, depending on the time of day.
Like in the rest of the world, pandemic restrictions were equally difficult during this time. But also like the rest of the world, new friendships began to emerge in creative ways.
…
Mary Sheldrick is less of an overseer in the Hobby Room than she is a peer, who helps in assisting those that come in to create. Wende—a resident of the Summit—wants to get started on a papier mache sculpture, with a subject that is close to her heart: a likeness of her old Beagle. Wende collaborates with Mary on every aspect of the design, with Mary providing the support to sculpt the figure of the dog. Wende selects the types of fur to use. For Wende, this is a piece that takes her back to her childhood—bringing with it the laughter and love she shared with her dog.
And Wende is not alone.
All the canvases that line in the shelves of the Hobby Room have their own story. Some are created with QLI's consulting art therapist, Dar Vandevoort, hailing from Omaha's Hot Shops artist haven. Regardless of what the residents might have an inclination towards, the Hobby Room, and indeed the whole of the East Campus life path team, is there to help.
"That's where art comes in—it is freeing, and there is no "wrong" way to do it," Sheldrick says. "Art is art."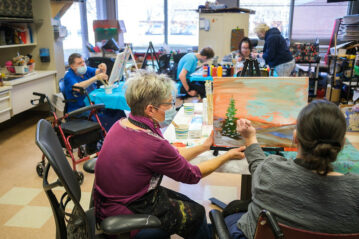 The Hobby Room is a light environment with playful chiding, lots of laughter and frequent trades of words of encouragement. As Sheldrick with often say, "it seems like we fly by the seat of our pants in here some days." This is not to say that there is aimless method to the projects that residents commit to here, but rather a purposeful artistic improvisation. Someone wants to try acrylic paints instead of continuing with the oils paints that they've tried on their current project? Perhaps a textured canvas as opposed to a regular, smooth one? Or a smaller surfaced canvas with pastel chalk? Speak no more, Sheldrick and Vandevoort have got it covered. There is no rubric or guidebook, no set of allotted goals that must be met within the hour. This place is a portal for expressionism, an outlet worked into the residents' daily lives.
Of the utmost importance, all are welcome. It isn't an uncommon sight to see other residents, team members, families, and visitors stealing peeks from outside. The doorway to the Hobby Room is practically as busy as the main space. People stop by to chat briefly with Sheldrick, and she invites all to enter with unmatched enthusiasm, a blank canvas, and a seat at the table.
Kelly Reynoldson is in for a curiosity. He isn't sure what he would look like to work on, but Sheldrick and Vandevoort are quick to gauge his interests. For today, it is a medium-size canvas, with a paint combination of light greens with light and dark blues.
"Take the brush and move it softly up and down," Sheldrick demonstrates for Reynoldson with some of the light blue paint the method she means. The brush is squat, allowing for a solid width to run across the length of the canvas. Reynoldson takes up the brush and continues where Sheldrick left off. Over the next hour—the project evolves. Blue brush strokes evolve to turquoise and green. Sheldrick comes back to view where Reynoldson has taken it.
The blue areas form an exterior, with the green forming an interior. "It looks like a cool wave," says Sheldrick, "with seaweed in the middle or foam from the ocean." Reynoldson is mum on the meaning of the picture, but it's striking what was accomplished in a short time, a mix of colors, a canvas, and a brush. Naturally, the nature and meaning of expression through art is different for every individual. Regardless of individual interpretation, the times spent making art in the Hobby Room are community, which out of it can arise the notion of something much greater.
Such a notion comes from the core of what Life Path services represents. Sheldrick notes how her daily involvement makes an impact on her own life. "Every day that I come to work I am anticipating something—helping a resident work on a project, or taking them to a stage musical, there is always something to look forward to. If I can anticipate my day, our residents deserve the same right, and that's what Life Path is all about."