Omaha's Ruff Waters, Inc. maintained the saltwater aquarium in QLI's Durham Center for many years.
But, in the spring of 2020, due to COVID safety protocols, their staff members weren't able to enter the building. Without regular attention, the lives of the fish and the future of the aquarium were in jeopardy.
That's when QLI's Alex Kuhns stepped in and stepped up to fill the void.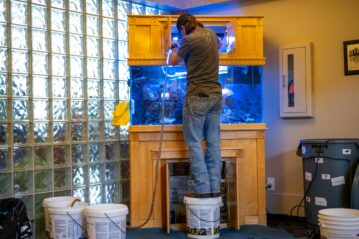 Alex's budding curiosity quickly blossomed into a full-fledged passion as he took on the role of tending to the tank. He became so good at it, the folks at Ruff Waters hired him. Alex now balances a full schedule at QLI, where he works in custodial services, with his new part-time job servicing aquariums across the city.
QLI President and CEO Patricia Kearns has taken note. Pat shares, "I am thankful for Alex's commitment and for the compassion he demonstrates for individuals we serve. His pride for our mission is clear based on the quality of his work, both with his day-to-day role at QLI and his management of our aquarium."
Thank you, Alex, for caring for QLI's tiniest, most delicate aquatic residents. Thank you for caring for the beautiful interiors of QLI, and most importantly, thank you for caring for those who call QLI's East Campus home.
If you want a career like Alex, one where you can tap into what truly motivates you, check out QLI's career page here.
If you want a career like Alex, one where you can tap into what truly motivates you, check out QLI's career page here: https://teamqli.com/careers/