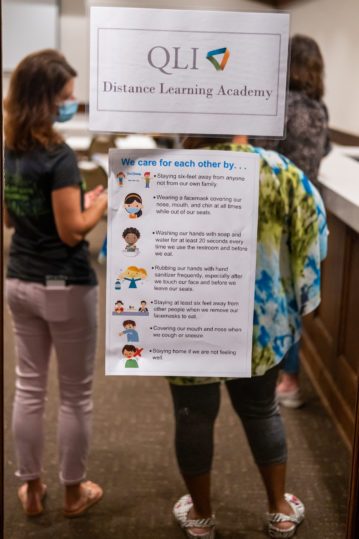 At some point it's impossible to chart the ways COVID-19 affects the community.
For Omaha-area school districts, the pandemic presented only difficulty. District administrators were pinned into walking the delicate balance between providing leading-edge education and protecting the well-being of students and families. In many cases, public school districts' innovative, flexible answers—including providing comprehensive remote learning—keenly prevents unnecessary community spread.
But change creates further challenge. Working parents in the Omaha area navigating career demands must also meet the needs of their children participating in classes from home. A lack of viable child care options applies additional, undue pressure. Who will supervise children, much less facilitate their remote classes, if parents can't be home? Will parents—including many operating in essential, frontline medical roles—have to leave their place of work in order to support their children's education? And in the face of looming workforce scarcity, how will businesses, especially specialized healthcare providers like QLI, continue to serve individuals recovering from life-changing injuries?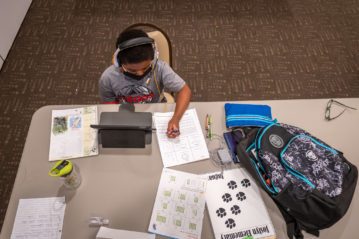 This line of questioning posed serious uncertainty for the men and women providing rehabilitation and care services at QLI. Rather than wait for answers, those same employees created one of their own: QLI's Distance Learning Academy—an off-site educational space in which the children of QLI team members can safely participate in remote learning plans under the direct, in-person supervision of Omaha-area education professionals. Facilitated by QLI staff for QLI staff, the Distance Learning Academy supports students between kindergarten and sixth grade age ranges within an environment governed by CDC-approved pandemic control guidelines.
The space would give QLI's working parents an environment for their children, as well as the means to continue operating at full capacity in their professional roles. And, best of all, the option exists at no cost to the parents who use the service. Parents working at QLI get to use the Distance Learning Academy for free.
The project is the creation of frontline QLI team members, who sought out a creative solution to this newest and most urgent COVID-19 complication.
"I knew I wouldn't be able to do what I did from March to May with my kids doing schooling at home," says Johnetta Nelson, a campus leader at QLI, whose eight-year-old daughter participates in the program. "We took a serious look at who remote learning plans would affect most. Then we solicited information from those team members, asked them questions about what kind of solution would work best for their needs."
After determining how a specialized education space could best support QLI's workforce—including the many team members supervising overnight rehabilitation and care services—Nelson, alongside other working parents throughout numerous departments, came to company leadership with the proposal.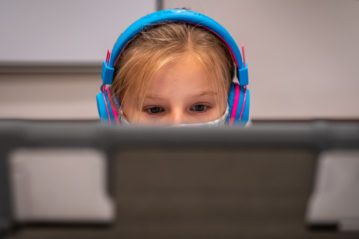 Without hesitation, QLI's leaders turned purpose into action.
A pillar of QLI's culture is the commitment to making its workforce successful both within the walls of the workplace and throughout the ups and downs of life. To that end, it was clear that the Distance Learning Academy represented an innovative way for the company to uphold that commitment and help working parents and their families lessen, or even eliminate, the ripple effects of the pandemic—keeping team members fully employed and their children meeting their academic goals.
"QLI has always had my back personally and professionally," Nelson says. "The company listened to all of us and made a solution that works."
Within days, QLI turned a private, off-campus space into a fully operational classroom, a space where the new Distance Learning Academy could thrive. And to support the classroom, QLI brought onboard a roster of educational professionals and educators-in-training, facilitating all operations under the same COVID-19 protection protocols QLI has used to successfully combat spread within its rehabilitation and care facilities.
It's a tremendous support for those most important to QLI—its team members.
Having launched alongside the start of the public school year, the Distance Learning Academy currently supports between 10 and 30 students. But the program is steadily growing, and as more districts throughout the Omaha metropolitan area utilize remote learning, more parents from QLI are keen to give the service a shot.
"I had three parents just today tell me how excited they are that this program is working," Nelson says. "This is a huge benefit to those of us who don't have access to simpler options. It gives parents like me a sense of ease."