Linsi Peterson was early.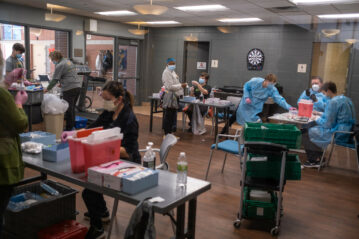 Early enough to watch QLI staff turn an adaptive sports workshop into a fully operational vaccine clinic. Early enough to watch the pharmacists wheel the Pfizer/BioNTech COVID-19 vaccine into QLI's Summit long-term residential campus by way of nondescript crates stacked on shelved metal carts. Early enough to watch QLI's expert nursing team and the specialists from Gretna, Nebraska's Community Pharmacy carefully prepare the vaccine in countless syringes.
And early enough, too, to be the first in line. 
For Peterson—a resident who lives on QLI's Summit and, as a result of strict COVID-19 social distancing mandates, has been isolated from family, her friends across QLI, and her favored pastimes within the Omaha community—this moment felt long overdue.
"We've been quarantined inside for ten months," she said. "Really, it feels like longer. I'm a social person, so it's pretty rough to be cut off."
For QLI residents, like Peterson, the arrival of the vaccine was more than a form of treatment.
It was the first glimpse of hope. 
"I've always looked at this like our generation's smallpox," Peterson said. "It's what we'll be known for. This feels like our chance to fight this horrible illness."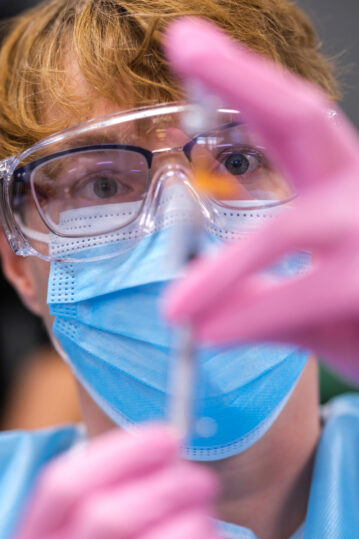 The first dose of the Pfizer/BioNTech COVID-19 vaccine came to QLI on December 31, representing the opening salvo of Nebraska's part in the United States Federal Government's Operation Warp Speed. Carried out in the Omaha area by Community Pharmacy in an initiative referred to as "Project Hug," local efforts prioritized vaccine delivery for long-term care facilities in order to immunize the area's most vulnerable populations.
In QLI's case, it was only the latest bulletpoint in a year-long effort to protect its staff and clients from the novel coronavirus.
"Our job," said Michala Witas, QLI's Director of Clinical Services and one of the leaders of QLI's COVID-19 Response Team, "was to provide as much education and intervention necessary to prevent any possible spread of COVID on our campus. At the outset, we were hoping the restrictions would be temporary, but it became obvious pretty quickly that these measures would be our new normal."
Since February, QLI has imposed difficult-but-crucial regulations on nearly every aspect of day-to-day operations. 
The facility prohibits non-essential visits by volunteers and family members and simultaneously restricts all clients and residents from off-campus events. Incoming clients to the rehabilitation campus undergo a two-week quarantine within their respective residential units before beginning therapy programming. All staff perform wellness checks at the beginning of each shift, answering a battery of questions about social distancing and relative proximity to COVID-positive individuals, while also recording their body temperature on a daily basis. Team members are required to wear masks at all times when working near others on campus. And in the opening weeks of the pandemic, the entire organization participated in thorough hand hygiene and personal protective equipment training.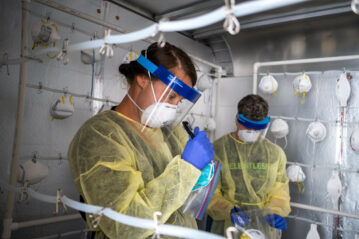 Finally, to monitor the continued well-being of every person at QLI, employees and clients take part in COVID-19 antigen tests multiple times each week.
It's a multi-directional process that turned QLI into a sequestered beacon of success within Omaha—both in terms of identifying isolated cases and minimizing the potential for spread between employees and the individuals they serve. Over the course of 2020, QLI exercised tremendous control over any exposures, confirmed or otherwise, even as rehabilitation and care programs continued unabated. 
"Mask-wearing is, definitively, the most important aspect of our protective efforts," Witas said. "That is something our team committed to early on. It's really a credit to the team's diligence in that respect that we've been able to keep case numbers so low and transmission rates on-campus nearly non-existent."
Ten months after first instituting the practices that would bulwark QLI from widespread infection, information regarding the vaccine's availability was welcome news. And as it became clear that QLI partner Community Pharmacy would have the inventory necessary to vaccinate all of QLI's staff, all its rehabilitation clients, and all its long-term care and assisted living-based residents, the key word around QLI became anticipation.
"Honestly," Witas said, "it was a little like Christmas morning."
QLI's COVID Response Team quickly assembled channels and materials through which they could educate key parties. 
Clients and their families, for instance, were given private phone calls to discuss the benefits of the vaccine, and to assuage any concerns regarding the vaccine's minimal risks. Additionally, the team hosted a virtual "town hall" meeting for staff—a live, interactive question-and-answer broadcast hosted by the COVID Response Team and featuring QLI's in-house physician.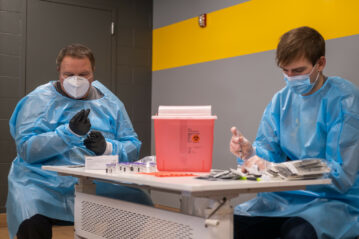 Vaccine clinics, likewise, were organized with similar urgency. Since the Pfizer/BioNTech vaccine requires two doses—with the second shot administered exactly three weeks after the first—it was important to ensure the clinics could handle the influx of individuals looking to receive immunization. 
As a result, when December 31—the date of the first vaccination clinic—arrived, it wasn't a day of confusion. It was a day of excitement. Hundreds of team members, QLI clients, and long-term residents lined up for their literal shot of progress. 
For some perspective, the vaccine doesn't mean immediate change. Immunization within QLI itself won't lift restrictions for the company as a whole. Healthcare industry limitations to public access and non-essential visits remain, reflecting high transmission and infectivity rates within the Omaha metropolitan community. Furthermore, masks requirements, mandatory wellness checks, and regular testing will persist into the foreseeable future. 
"This isn't a light switch," Witas said. "But it's the first step. It's the point we have to start from. And from here, the hope is that we, as a community, can eventually get back to the way things were. It's going to take a lot of work and a lot of education. But a start is better than where we were at a year ago."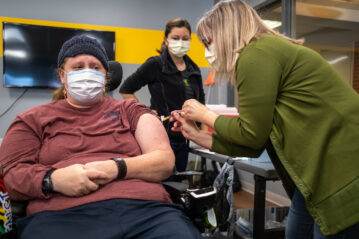 For people like Peterson, people hungry for some sense that the world can shed this new normal for something more familiar, such a start is encouragement enough. 
As Peterson piloted her wheelchair out from the vaccination clinic, she received cheers from onlookers nearby. With the shot, Peterson had become the first person at QLI to receive a COVID-19 vaccine. 
"I don't really like being the center of attention," Peterson said, "but, in this case, I'm happy to draw a crowd."
In the days after receiving the shot, Peterson reported no side effects. No aches or pains. No lingering nausea or light-headedness. She looks forward to a world where she can travel to see family without risk, a world in which simple acts like a trip to Target don't feel like life-or-death endeavors.
And, in the meantime, she's eager to tell everyone she knows to get the vaccine.
"Listen, it's easy-peasy," she said. "Get it so we can safely leave our homes. Get it so we can visit our friends and family, or go to movies, or go to concerts."
"This is a good thing. It's important that we, as a society, face this together."