April is National Occupational Therapy Month, an opportunity for healthcare organizations to celebrate the men and women who help lay the foundation of recovery for those rebuilding life after injury.
Occupational therapists are among the most important clinicians QLI utilizes within both its rehabilitation and long-term care programs. They are in many ways the glue holding the other discrete components of therapy in place. At their most effective, occupational therapists are responsible for teaching and crystallizing the skills that will go on to define a rehabilitation client's life.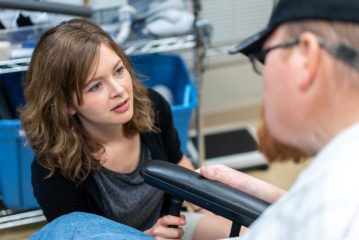 For 2020, QLI sat down with Amanda Clowers, an occupational therapist with a unique perspective of the organization. During her tenure, Amanda has created formative change on both QLI's Rehabilitation Campus and its long-term care-focused East Campus, and was a 2015 recipient of the QLI James P. O'Donnell Demonstrated Excellence Award.
Today, Amanda leads occupational therapy services for QLI's Summit.
To start, will you take us through your history as an occupational therapist at QLI?
Absolutely!
I studied at Creighton University's occupational therapy program. As a student there, you do two long fieldwork rotations, and then a final rotation. My first rotation, I was lucky enough to be placed at QLI. This was, like, 2008. And even then, QLI had a strong reputation at our school. I lucked out by getting that spot. QLI was my first taste of occupational therapy in the real world.
To me, it was like, "This is how occupational therapy should be!" A lot of programs, especially hospital or long-term care programs, are so very funding-based. They're not focused on what a person really needs. So, at QLI, it was more open-ended, and I really liked that. It instilled a lot of confidence in me to explore as a clinician, to find creative solutions to real problems.
I did a portion of my second rotation at QLI, and then my first job out of school was here, too. I guess you could say I just couldn't stay away from QLI. *laughs*
I just celebrated 10 years at QLI in December. This is my second home. The people I work with, our residents, they're my second family. And especially now, it really feels like you're taking care of your own. It's taken on a deeper importance, especially as we're trying to provide meaning and purpose to those we serve in the midst of this pandemic.
You've recently transitioned from working on QLI's Rehabilitation Campus to its East Campus. Can you describe that change?
When I first started as a student, my clinical instructor bounced between QLI's two campuses. So, naturally, that's what I did, too. When I got hired, it was kind of a natural fit that I'd serve both campuses.
In July, I started focusing more on QLI's Summit, with the long-term residents we have living there.
Do you feel like there are major differences in your approach between the two campuses?
Huge differences, yes.
On the Rehabilitation Campus, when we get a new admit, we start processing the notion of that person leaving on basically day one. You know, where are they going to be going, how are we going to prepare them for that? That's day one for rehabilitation.
It's kind of high-pressure, when you think about it. We have individuals for sometimes as little as 30 days and it's our responsibility to put their lives back together. Everything from basic healthcare needs, getting dressed in the morning, getting in and out of bed—who's going to do that? How are they being trained? Do we have to train caregivers? What about emotionally? Cognitively? How do you envision what a person's day is going to look like once they get home, and how do you give them optimism for the future? Sometimes that means coordinating with people many states away—preparatory discharge trips and home assessments.
That's not even mentioning all the rehab—lots of rehab—that we have to pack in. A lot of our clients are coming from inpatient settings where technology is rapidly expanding. QLI has kept pace with that, so, as an OT, you're setting up a lot of time with high-repetition, neuroplasticity-building practice. But you're also serving sometimes as a counselor or a coach or a mentor.
And on QLI's Summit?
The Summit is home. There is no discharge. So, atmospherically, it's a different setting. But we're still focused on providing and boosting function, helping residents be as independent as they can be. It might be 24-hour care, but we still have the flexibility to help people gain a lot of independent ability. I think most people want that.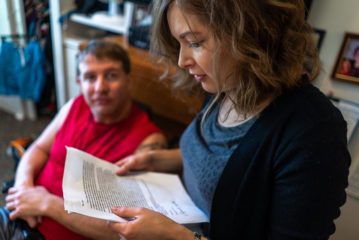 I have a resident I work with, for instance, who was born with cerebral palsy. And yet they come up to me and say, "I want to work on this," and will give me a goal. Or sometimes you work with people who've been injured for seven, eight years, and they're interested in breaking new barriers. We have the opportunity to help people work toward those changes. They can tap into that potential, and that growth prevents a person from growing complacent with what they can do. We're always focused on function and independence in that way.
And, actually, in light of everything happening with COVID-19, our clinical teams have blended into the Life Path Services side of our program more than usual. So lately we've focused on keeping our residents physically healthy and emotionally healthy during this time. We've implemented some groups around things like yoga, meditation, virtual sports, a dance group. There's a silver lining in every situation, and the pandemic has actually pushed us toward some cool interdisciplinary ideas we plan to implement in the future.
That blend of teams has to be extremely exciting.
It has led to some major, extremely positive changes.
Dr. Kult (QLI's medical director) comes up twice a week, and we have additional nursing team members on the Summit right now. Those nurses are doing deep dives into our residents' medical histories and we're collaborating a lot to determine how to safely get residents more active, looser, less fatigued. Dr. Kult is able to provide more medical support to our residents right away, which is so important to have under one roof. Because that medical support turns into function. That's a huge change, and can mean huge changes in short order for the people we're serving.
When you're talking about a long-term population, to get all you can out of someone's function, I can't imagine family members aren't excited to see that level of improvement in their loved ones.
At any time, it's great to be able to provide more function for our residents, but to be able to do that now, with the pandemic causing so many community restrictions, that's a tremendously positive thing.
Something that's been on our radar is incorporating Addi, one of our GRIT coordinators. She's doing a fitness course for some of the residents of our Assisted Living apartments. It's been incredible leveraging her expertise to get people doing something different.
Adaptive and assistive technology is a huge point of emphasis for occupational therapists with our rehabilitation population. Is there an emphasis on technology with long-term residents as well?
There is, definitely. We use a variety of FES (Functional Electrical Stimulation) units, we have a fleet of adaptive bikes, we have some specialized walkers, we have access to virtual reality. Lots of assistive consumer-grade technology like the Amazon Echo Dot to create schedule reminders, orient residents to the weather, get regular news updates. We try to tailor these pieces of technology to the individual's abilities.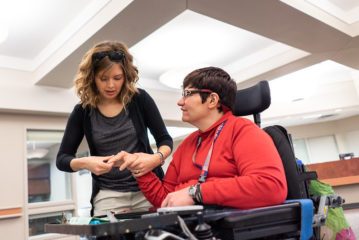 How do you feel like your role differs from what a person might expect from the field?
I think the main difference—for me, at least—is that, because we're not really limited by billable units or limited to sessions of specific lengths of time, I get to go where I'm needed. On the Summit, I have a lot of autonomy to be responsive on a given day. I can spend a full day with a resident and their trainer really hammering out the details of a transfer or pull in different clinicians to help a resident perfect their ADLs (Activities of Daily Living).
But also, at QLI, I can spend a lot of time coaching other team members. I've been asked to zero in on new team members, really gravitate toward people who are new to the company or even new to the industry. You know, make these team members feel empowered, feel as if they have skills and resources.
A lot of times that just means working alongside direct-care staff, coaching right there in the moment. And that gives me the facetime with residents, too, just to see how their days are going or what elements we can tweak to make those everyday routines even smoother. I love that about the Summit.
What do you feel like is the most gratifying thing of being an Occupational Therapist at QLI?
Truly, it's about making a difference. At the end of every day, it's easy to look back and see that something positive was done for another human being.
The way we're able to do that makes a difference, too. The fact that our teams collaborate toward a single vision, it feels like our work with residents on the Summit or rehab clients tends to stick a little more. I know of OTs who work with clients similar to QLI's, and they might teach an important skill, but the individual doesn't have the opportunity to apply that skill with any repetition with other clinicians. Here, we all know what the intent is, what the skills are. And so at all times the individual has the support to practice and build that ability.
Do you think there are misconceptions about occupational therapy you wish you could dispel?
You know, there are a few.
Anymore, occupational therapy is becoming a little more well-known, so some of those misconceptions are going away. But when I started, a lot of people didn't know what being an OT really was. Because of the word "occupation," the follow up was always, "Oh, you help people get jobs?"
Some people who know a little bit tend to think occupational therapy is just about the basic, basic stuff. Getting a person to the restroom or getting a person dressed. That's a part of it, but not the whole story.
Imagine if you couldn't do that, imagine that loss of control. How devastating would that be? Something so personal out of your grasp.
We're about occupation—the purposeful, meaningful things you do throughout the day. Beyond walking and transferring. It's the "so, what" part of your basic skills. Occupation is something only a human can do. Our brains, our emotions, our thoughts and feelings. The human element. That has meaning and purpose and it looks differently for every person.
OTs blend into a lot of different things. Sometimes it looks like Life Path, sometimes like nursing. Sometimes we're involved in a person's basic health needs. It's hard to nail down because of that blend. But occupational therapists are always looking through the lens of purpose and meaning. It gives us the capacity to help a person do the things they really strive to do with as much independence as possible.