For us, being on the water is nothing new.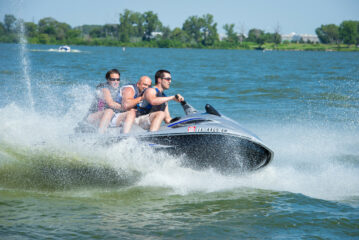 It's common for QLI's rehabilitation clients or long-term residents to enjoy the array of aquatic luxuries at our disposal—lounging under the canopied retreat of a pontoon boat, or feeling the rush of a high-speed jet ski, or even basking in the meditative act of rowing a kayak over placid lake waters.
And yet, our programs are in a constant state of expansion, growing as a result of clinical ingenuity and community partnership.  
This summer, a special donation to QLI resulted in this precise form of growth. Thanks to the family of Kenneth Hall, an avid Iowa-based cyclist and outdoorsman, our adaptive sports team received a sailboat, given for the purpose of adding an adaptive sailing program to an already diverse slate of watersport offerings.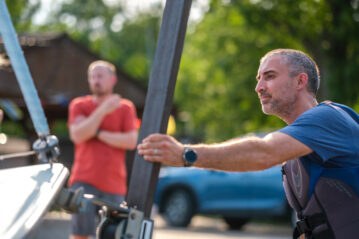 "[The sailboat] was a tremendous and thoughtful gift," says Ed Armstrong, QLI's Coordinator of Adaptive Sports. "The Hall family wanted to ensure the boat went to someone who would use it to its fullest, somewhere where it would serve a greater cause."
Indeed, Armstrong saw the boat's potential as a new, exhilarating way for rehab clients to engage with watersports—not as idle passengers, but as active participants.
"Adaptive sailing is a widely established sport for individuals with disabilities," Armstrong says.
"People are familiar with competitive adaptive sports like adaptive skiing or wheelchair rugby, but adaptive sailing has the same kind of legitimacy. It gets really intense. You can even see it during the Paralympic Games."
The donated sailboat, named the Hall-elujah, quickly found a new home at the Lake Manawa Sailing Association (LMSA) in Council Bluffs, Iowa. But without experience himself, Armstrong didn't have the expertise to manage the challenges of open-water sailing.
He and QLI's Brad Reynolds—who, together, oversee the facility's boating and watersport recreation services—were eager to learn.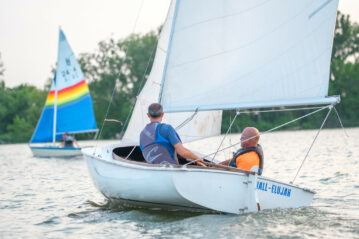 The pair partnered with staff at the LMSA, eventually enrolling in a two-week-long hands-on education program to understand the mechanisms unique to sailboats, the physics of wind and water interaction, and crucial safety techniques across a range of unique conditions.
As a result, the sailing club's involvement has created impact beyond education, cultivating a growing commitment to the success of adaptive sailing at Lake Manawa.
"The club has been truly amazing," Armstrong says, "not just in the way they've accommodated us, two complete novices, to become better, safer sailors, but in the way they are excited about the potential for people with disabilities to access this sport here."
Accessibility isn't a binary problem to solve, he explains, with no one-size-fits-all answer to meet so many varied needs. 
"The access we're looking to create exists on a spectrum. Sure, many of our clients are in wheelchairs. Some will need specialized equipment. But that doesn't account for everyone. Adaptive sailing can even be a tool for the elderly, or for sailors in the community, outside of QLI, who simply can't utilize boat controls the way they used to."
QLI's adaptive sailing program is still in its infancy. The Hall-elujah itself will require modifications to maximize its versatility and accessibility for QLI's diverse populations. Future planned additions include seating adaptations capable of providing additional trunk support for passengers, as well as adaptive hand controls and even compatibility with sip-and-puff devices, giving all users universal control over the vessel regardless of physical ability.
But because of its early progress, the program's development continues to inspire.
What began as a generous donation to QLI has already become a waypoint for a burgeoning community. 
"I can't say enough how thankful we are for generosity of the Hall family and how proud we are to be a part of the LMSA," Armstrong says. "We've built some incredible relationships around the idea of creating opportunity for everyone. It's exciting to see where we go from here."