Spend enough time around QLI and you're bound to hear someone use the descriptor "life-changing."
The turn of phrase receives a lot of play in our halls. It describes our culture, our technology, and the rehabilitation and care model that serves families each and every day. Indeed, the notion of changing lives even stands as pillar of QLI's mission, which endeavors to deliver "life-changing rehabilitation and care."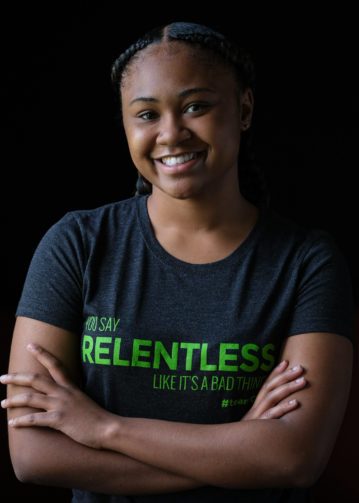 But take the case of Tyleah "Ty" Haney, one of the many rehabilitation trainers who facilitates the therapies for brain and spinal cord injury rehabilitation clients on QLI's Rehabilitation Campus. For her, the company's life-changing influence manifested in a different way altogether.
To understand Ty's journey, you must first look backward. Step back to 2018—for Ty, a point of personal tragedy.
That year, her mother passed away.
"Without her," Ty says, "I didn't know what to do in life. I was kind of lost."
Ty, the middle of three children, was left without a path. Then a student at Omaha North High School, she had little interest in pursuing a college education and admitted giving almost no thought to a potential career. Still grieving, Ty moved from her childhood home and away from her siblings, instead electing to stay with a friend to finish her time in high school.
"Mom kept us together," Ty says. "She kept me together. I lost all my confidence, I couldn't focus, I didn't have any motivation."
In her junior year, Ty was among a small group of students selected to join the Avenue Scholars, an Omaha-area foundation that helps promising young men and women identify and pursue financially stable career paths. Avenue Scholars introduced Ty to a number of industries, from finance to technology to healthcare.
Ultimately, as the program surrounded her with systems of support and personal coaches, Ty looked to her mother for inspiration.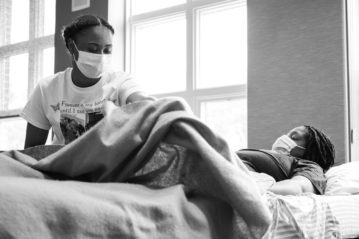 She wanted to be a nurse, she decided—just like her mother, who had helped others for years as a nurse herself.
Through the Avenue Scholars Foundation, Ty was connected to QLI's Workforce Development program, a specialized healthcare training service for young men and women from low socioeconomic or otherwise disadvantaged backgrounds. Targeting students like Ty who might not successfully enter the workforce on their own accord, QLI's program provided individualized coaching through months-long work-based training positions.
All of it was new. And as a result, all of it felt uncertain.
"At first, I didn't know if I could work with people with brain injuries or spinal cord injuries," Ty says. "It was scary to me, honestly. I knew nothing about it."
Over the bulk of her senior year, Ty and the students in the Workforce Development program met with Melissa Peterson and Yuri Carrazco-Cortez, who served as instructors for QLI and personal mentors. More than teachers managing a Certified Nursing Assistant curriculum, Melissa and Yuri were shepherds, guiding each student beyond individual hardships toward a greater sense of competency and, indeed, confidence.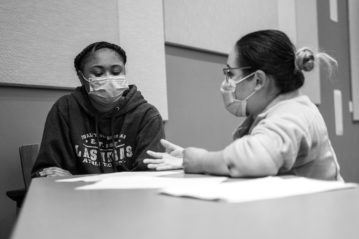 Herein exists a key difference between QLI's Workforce Development initiative and other entry-level training programs: Where other workforce training services emphasize fundamental industry responsibilities, QLI's service digs deeper, applying social and emotional coaching in concert with true-to-life, context-rich skills training.
In Ty's case, it created a learning environment unlike any other, one that slowly transformed her into highly employable job seeker, capable of making a tangible impact throughout the Omaha community.
"I remember training in the house, doing stand pivots or transfers with someone," she says. "At first I remember thinking, 'What if I drop someone? What if I hurt someone? What happens if I mess up?' There were points where I thought I would always need someone right at my side doing this for me."
But the training continued, hands-on in an actual clinical environment. Through structured repetition and with careful guidance from QLI's expert educators, Ty enjoyed success in her growing expertise—and with it, a boost to her sense of self.
"Melissa and Yuri taught us everything about being in a setting like this. Not just how to perform, but how to look at yourself. How to look at others. The team was patient with me. They allowed me to learn at my own pace.
At some point I realized I'm really doing this. I'm doing these things on my own. I felt proud of myself. I finally had a future, something to work toward."
In early 2020, as world events—like the spread of COVID-19—made everyday life increasingly uncertain, Ty used the opportunity to create something definitive for herself. She was going to graduate high school and become a CNA. She was going to lay the foundation for her future on her terms, not in response to hardship or circumstance.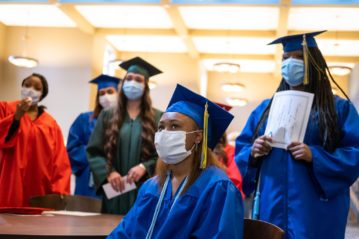 In May, QLI held a private, socially distanced, on-campus graduation ceremony for those within its Workforce Development program, both a celebration of the end of the students' high school education and their start as fully certified CNAs.
Ty had a choice. Still involved with the Avenue Scholars Foundation, she would continue her education to earn a bachelor's degree at the University of Nebraska Omaha. But now, thanks to the Workforce Development program and the oversight of her mentors at QLI, she was equipped to work anywhere, bolstering a resumé that gave her tremendous flexibility.
She chose to apply to QLI. And after acing her interviews and proving her ability, she earned herself a spot on QLI's Rehabilitation Campus.
"I didn't think a place like QLI could better my life," she says.
Since participating in the Workplace Development program, her life has changed as an employee as well as a person. Ty recently reconnected with her two brothers and even earned enough financial stability to move into her own apartment, an incredible feat for someone who, just two years ago, had no vision for where life would take her.
Today, Ty is a crucial part of QLI's residential team, managing specialized care for brain and spinal cord injury clients coming to Omaha from across the country. When asked about her teammates, she refers to them the way she refers to family. When asked about the clients she serves, she doesn't linger on the details of their injuries or the specifics of their cares, but rather the passion that goes into building meaningful relationships.
And when asked about her own journey—the hardships she endured and the lessons she learned and the growth she achieved—she speaks with ownership.
Her future isn't an unknown variable. Instead, it is hers—and hers alone—to create.
"My life is better in so many ways after learning here at QLI," Ty explains. "It makes me proud to know that I've found something I love to do. Every day I know that I'm turning into a strong young woman. An adult. I'm happy here. And I think my mom would be happy, too, that I'm changing lives."